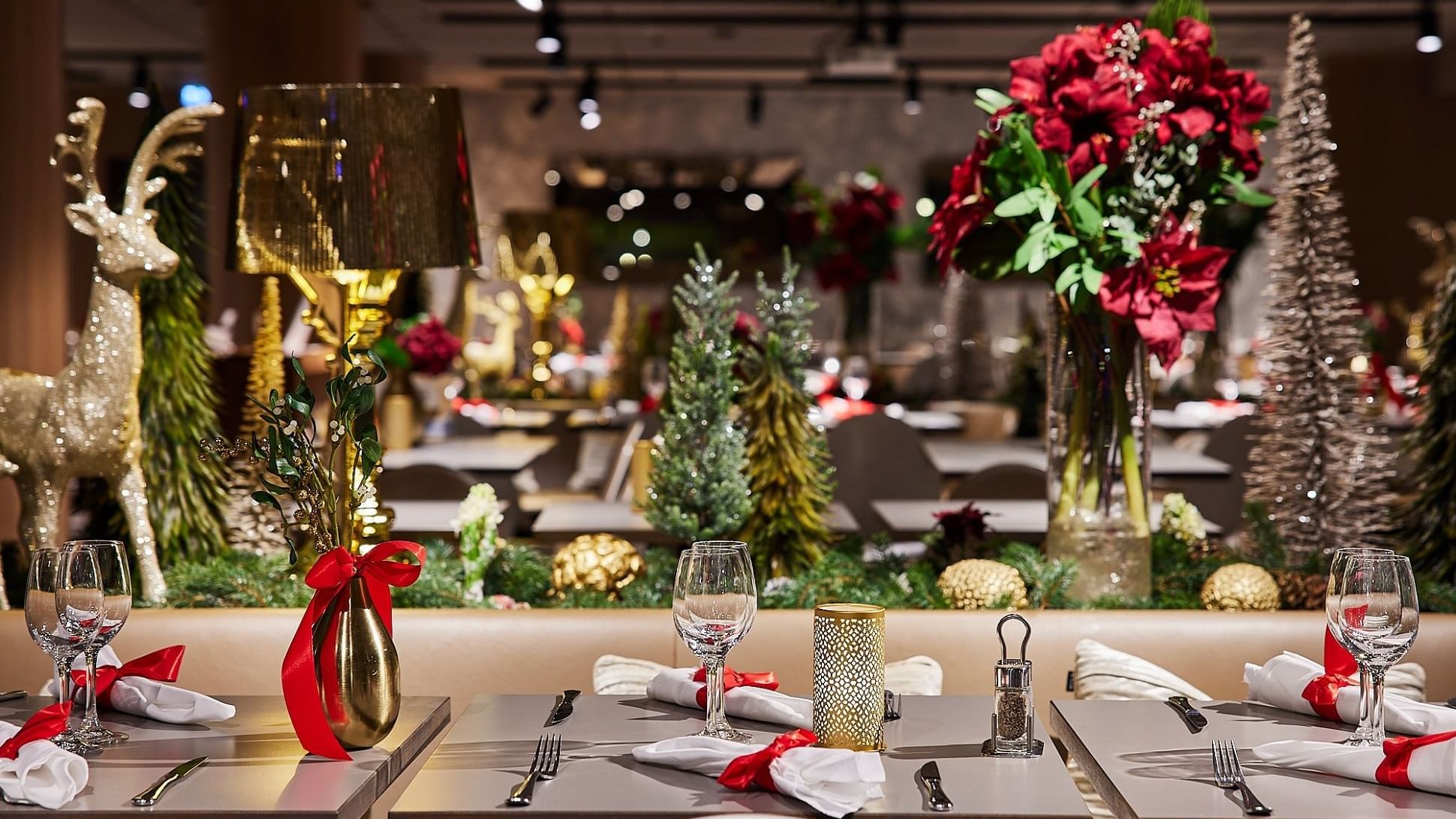 Christmas table in Gothenburg
The fondest memories of Christmas are made gathered around a table...
Welcome to our lovely Christmas table, which is served from 23 November to 21 December 2023. Enjoy all the delights of Christmas which our creative chefs prepare from scratch with carefully selected ingredients. Our Christmas table offers something for everyone as we include both traditional and new flavors as well as a range of vegetarian dishes. Start the evening with warming swedish mulled wine before you let yourself be tempted by all the delicacies of the Christmas table. Our Christmas table is laid out with carefully selected dishes that suit everyone, we add a little that has been forgotten as well as new flavors from all over the world. Finish with coffee and a large dessert table.
Our newly renovated Restaurant ONE is located on the first floor and offers one of Gothenburg's most inviting atmospheres with a timeless elegance that gilds the atmosphere and community. The restaurant has floor-to-ceiling panoramic windows that offer a nice view of the river, a lovely place to enjoy a Christmas meal.
CHRISTMAS TABLE
The Swedish Christmas table, known as "Julbord," is a traditional and festive meal that is served during the Christmas season in Sweden. It is a lavish buffet-style feast featuring a variety of dishes, many of which have deep-rooted cultural and historical significance. We prepare a Christmas table with carefully selected dishes that suit everyone, we add something that has been forgotten as well as new flavors from all over the world. Start the evening by mingling with warming swedish mulled wine and finish with coffee and a large dessert table.
Our Christmas tables are served Tuesday-Saturday November 23rd to December 21st 2023. Our Christmas Table is currently closed for reservations.

CHRISTMAS TABLE IN CHAMBRE SÉPARÉE
For larger parties and companies, there is also the option of booking a Christmas table and leasing Restaurant ONE. The restaurant can accommodate up to 260 guests and offers the latest and highest technology standards; with two projectors and two folding screens, a great sound system as well as excellent adjustable lighting options. The possibilities in this restaurant end with your imagination. With a private bar, the Dandy Bar, in the venue and the possibility to open up the wall to the Congress, which is in connection with Restaurant ONE, the entire first floor can be converted into a private banquet hall for up to 400 people. The congress offers a 22 square meter stage, uniform technology with the restaurant, and if desired a dance floor. Turn it into a perfect mingling or dancing area for your Christmas table.
Please note that we only rent out ONE to large parties with a minimum of 100 guests. Price on request.
To book, please contact our reservations department at reservations@riverton.se or 031-750 10 45.
CHRISTMAS INSPIRED LUNCH
In the View Skybar & Restaurant on the 12th floor with a fantastic view of the harbor entrance, we serve a 3-course Christmas-inspired lunch. Book it as a break during a conference or as a nice rounding off before the Christmas break.
Served Monday-Friday November 23rd to December 21st 2023. Minimum 10 people to make a reservation.
Our Christmas Lunch is currently closed for reservations.
THE SWEDISH CHRISTMAS TABLE TRADITION
Celebrating Christmas and eating a Christmas feast is a tradition that has followed us ever since the Viking Age of the 11th century, when the expression "drinking Christmas" was coined. During the Middle Ages, the Christian Christmas celebration came to Sweden with the influence of Advent. Over the years, it has been discussed which dishes are considered to belong on the Swedish Christmas table and a number of dishes have been added. Christmas ham and veal jam are examples of dishes that appeared the longest on the Swedish Traditinal Christmas table. Prince sausage, gravlax, red cabbage salad and herrings with different flavors appeared later and the popular meatball was not introduced on the Christmas table until 1970. In summary, it can be said that today's Swedish Christmas table consists of dishes that are partly related to the fasting rules of the Middle Ages, partly associated with the traditional slaughter of the Christmas pig before Christmas and is partly a remnant from the preservation methods of the time such as pickled herring. For the Swedish Christmas table, there are also different types of traditional drinks. Since pre-Christian times, fermented drink made from grain has been common in Scandinavia, in the form of, for example, beer. Spiced brandy became more common in Scandinavia in the 18th century, and later aquavit became the common Christmas drink.
Did you know that the classic carol "Hej Tomtegubbar" has been sung at Swedish christmas celebrations since the first half of the 19th century?
Our Christmas table is popular, so we recommend booking your seats well in advance online or by contacting us at reservations@riverton.se
Welcome to an evening in the spirit of Christmas at Hotel Riverton!
We serve our Christmas Table:
Between the 23 November to 21 December 2023
BOOK
Reservations for 2023 are closed.