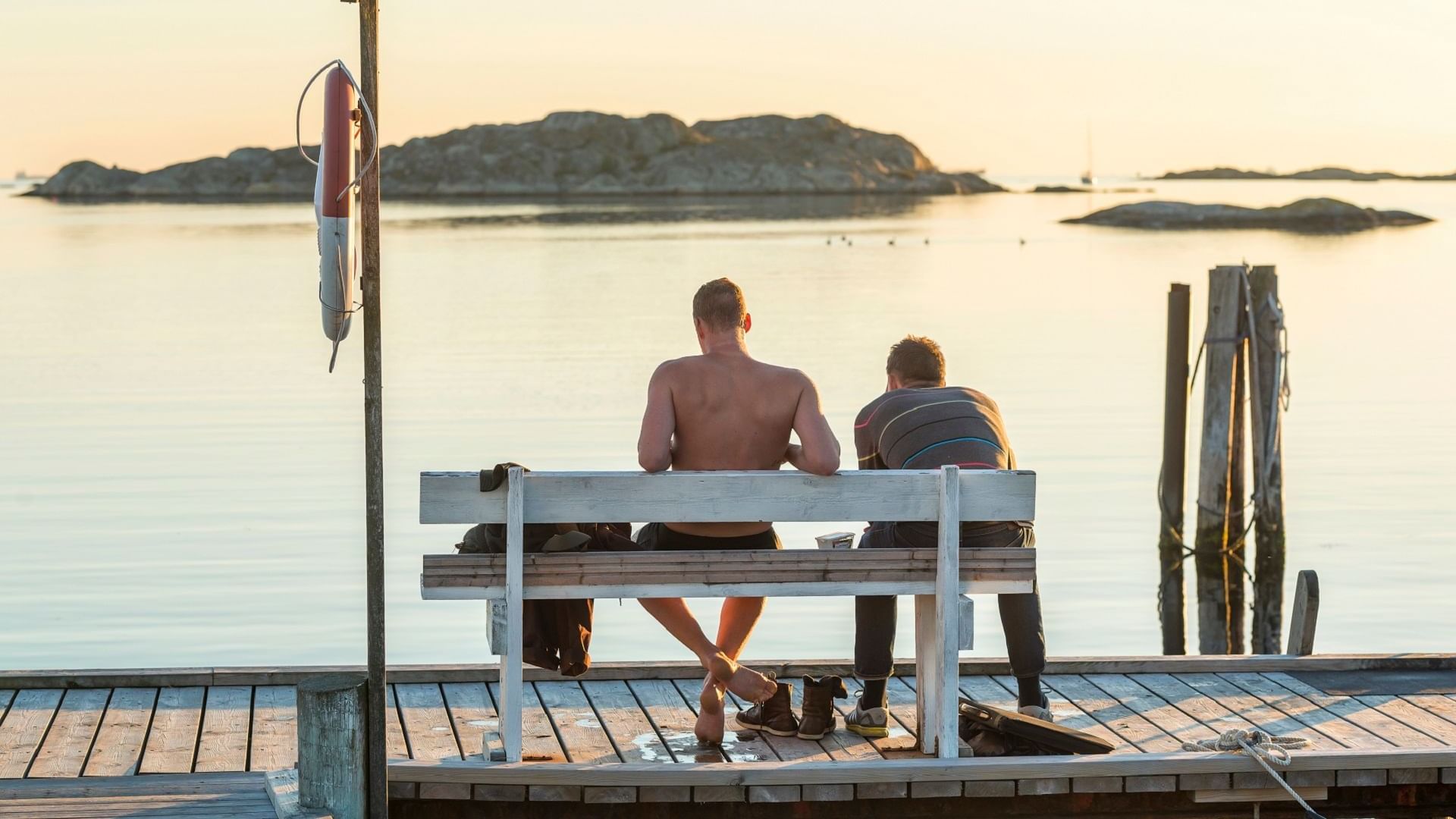 Would you like to discover something new during your vacation this summer? Take the opportunity and spend it with a city experience seasoned with sun and swimming by the sea.
There is much to do and discover in Gothenburg. The botanical garden, the cozy cafes in Haga, the Opera but also a lot of shopping! But the very best might be the beautiful archipelago.
In Gothenburg you will find everything from well-stocked shopping centers to small independent stores. If you are interested in interior design, there is a lot to discover around Magasinsgatan (Artilleriet and Norrgavel for example) which is within a short walking distance from us. Gothenburg is perhaps best known for the range of fresh fish and shellfish, as a west cost city close to the atlantic ocean. So take the opportunity and enjoy the delicacies of the sea either with us or at one of all the wonderful restaurants the city has to offer. For those of you who are looking for something more relaxed, we recommend strolling through Haga and stopping at one of the lovely cafés for a traditional swedish cinnamon bun or visiting the Garden Association, which boasts one of Northern Europe's leading rose gardens, where 2,500 roses of 1,200 different species bloom in the summer.
Discover the Archipelago of Gothenburg
Gothenburg's archipelago is a fantastic place that you can rediscover, as many times as you like. With over 20 islands to choose from, you can relax on sandy beaches, go swimming, kayaking, or even enjoy a picnic in the picturesque surroundings to mention a few examples.
The beautiful Gothenburg Archipelago islands offer unique summer experiences with cozy bathing bays, harbor restaurants and numerous activities. Seal safaris are offered and you can try your luck fishing for various species, such as mackerel, cod, crabs or sea trout. The archipelago is dotted with beautiful beaches where you can relax, soak up the sun, and go for a refreshing swim. Many islands have sandy beaches, such as Vrångö and Brännö. If you prefer cliffs and rocks, islands like Styrsö and Köpstadsö offer excellent spots for diving or sunbathing. Whether you're seeking adventure, relaxation, or a closer connection to nature, the Gothenburg Archipelago offers a wealth of activities and experiences to suit every preference. We also recommend booking an exciting seal safari or lobster fishing.
Our waterfront location makes the perfect base for exploring the archipelago. Between June and the end of August, you can take the summer boat, which departs at 10:50 every day from Stenpiren, out to the archipelago to discover Köpstadsö, Styrsö, Donsö, Kårholmen or Vrångö. The Stenpiren stop is right in front of the hotel and is only a few minutes' walk from our entrance.
West Coast Package
The Gothenburg archipelago is a. Our location by the water is the perfect base for exploring the archipelago! Between the period 6th of June and 29th of August, you can every day at 10:50 take the summer boat out to the archipelago to discover Köpstadsö, Styrsö, Donsö, Kårholmen or Vrångö. The stop is right in front of the hotel, just only a few minutes from our enterance. Our West Coast package includes a 24-hour ticket that takes you out to the beautiful islands in the archipelago, go around to the different islands or focus on one of them. There are several nice bathing spots as well as cozy cafes and restaurants to enjoy, a tip is to take the opportunity and eat fresh seafood! Gothenburg has high-quality seafood and nowhere do they taste better than near where they were just caught.
Suite Sumer Stay
Staying in a suite goes far beyond the normal hotel experience. Slip into a fluffy bathrobe, put the slippers on, and enjoy our delightful suite package.
We believe that everyone should experience staying in a suite at least once in a lifetime. With that in mind, Hotel Riverton is now offering a Gothenburg suite package, with dreamy rates, depending on the size of the suite you choose. Our Suite offer includes a delicious breakfast buffet, a bottle of sparkling wine and entrance to our beautiful Serenity Spa. Gothenburg has a lot to offer. We're centrally located with a perfect base to explore the city if you want to go out on adventure before your relaxing moment in Serenity Spa.
The largest amusement park in the Nordics
Liseberg is a well-known and popular destination in Gothenburg, both for children and grownups. Liseberg is not only an amusement park with roller coasters and giggle-filled carousels, but also a concert organizer and during the summer musical experiences are offered daily. At Liseberg, adventure, music, games, food and beautiful gardens await during three seasons - summer, Halloween and Christmas which we at Riverton warmly recommend experiencing. Please note that Liseberg has a limited number of places in the park, which means that you have to pre-book a day and buy a ticket online on Liseberg's own website.
Experience Gothenburg
Gothenburg is known for its lovely relaxed atmosphere, and during the summer you experience it best at the city's outdoor restaurants, in one of all the beautiful parks or gardens or when strolling the cobbled streets. Gothenburg has a lot to offer and there are a wide range of activities and attractions during the summer months to experience.
We recomend to visit Haga, located very close to the hotel, which is a charming neighborhood known for its cobblestone streets, wooden houses, and cozy cafes. Explore the small boutiques, antique shops, and enjoy a traditional "fika" (coffee break) with delicious Swedish pastries. Slottsskogen is another recommedation. Stroll through this beautiful green park in the city center, perfect for picnics, leisurely walks, and enjoying the outdoors. You can also visit the free-entry Slottsskogen Zoo, where you can see native Nordic animals like moose, deer, and seals. You can further more explore Gothenburg's canals on a boat tour and see the city from a different perspective. You'll pass by picturesque buildings, historical landmarks, and beautiful scenery. Please contact the front desk to arrange a boat tour along the canals.
During the summer, there is a wide range of events and concerts in Gothenburg for all ages, interests and tastes. Summerburst and Way ot West are recurring every year, while Ullevi and Scandinavium are visited by various big artists with great performances. In 2023 we will be visited by, among others, Metallica, Bruce Springsteen, Coldplay, Gyllene Tider and Laleh.
Feel free to contact us for more ideas on activities that suit you for your stay.