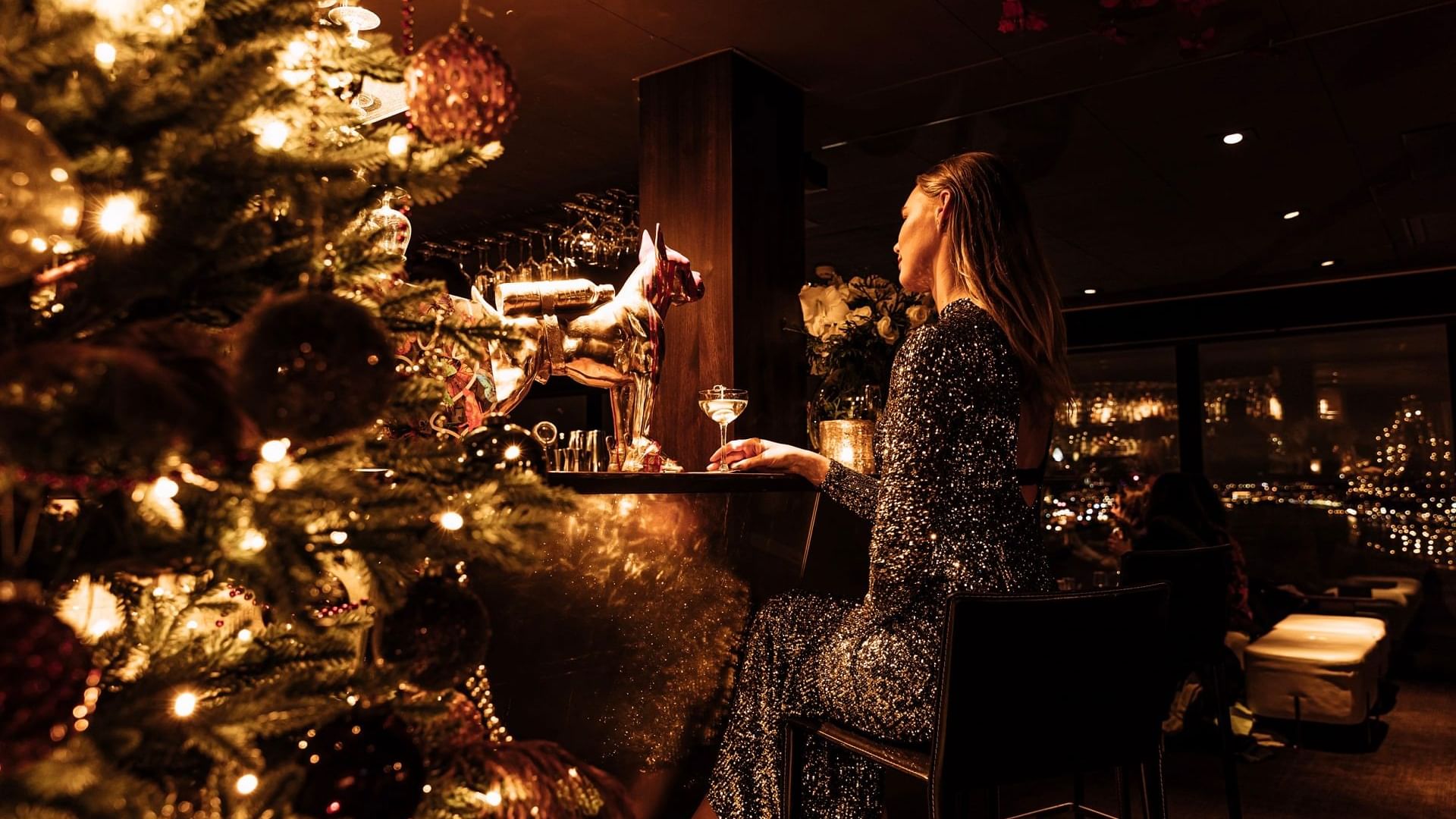 Celebrate the end of 2021 to one of the best views in Gothenburg!
We will serve a 5-course dinner in View Skybar & Restaurant. The restaurant has panoramic views with floor-to-ceiling windows with fantastic views over the harbor of Gothenburg, which becomes even more spectacular with fireworks.
It is not possible to only book New Year's Dinner with us - you need to book our New Yeas Package with an overnight stay in order to enjoy a New Year's Dinner in View. If you're only interested in a restaurant reservation, you are warmly welcome to book one of our New Years Matinees. We will serve New Year's Matinees in both Restaurant ONE and in View Skybar & Restaurant.
Hotel Packages
New Year's Eve
Start the evening with a 5 course dinner in our Skybar restaurant and celebrate the New Year with a complimentary glass of bubbly whilst taking in the spectacular views and fireworks across Gothenburg harbour. Stay overnight in one of our cozy rooms and start 2022 off with a sumptuous hotel breakfast.
Includes:
Overnight stay
Cocktail on arrival in our Skybar before dinner
5-course dinner with a wine package
Coffee
Complimentary glass of champagne at midnight per person
Full hotel breakfast
Access to Serenity Gym
Read more and book HERE.
Kindly note that our New Years Eve Package is fullybooked for this year.
Dinner Menu
Amuse-bouche
Petit choux - bleak roe - sour cream - västerbotten cheese
Oyster fine de claire - cucumber granité - dill
Starter
Lobster tartar - carrot - crispy rice
Main course
Halibut - cauliflower - grilled butter sauce - truffle
Main course
Fillet of beef - oxtail and foie gras croquette - jerusalem artichoke - black pepper sauce
Dessert
Valrhona chocolate bavarois - sea buckthrorn and yogurt sorbet - mille fuille - white chocolate crisps
Vegetarian Menu
Amuse-bouche
Petit choux - mushroom - sour cream - västerbotten cheese
Egg cream - crispy potatoes - truffle
Starter
Egg 63degrees - carrot cream - mushroom broth - crispy rice
Main course
Grilled Swedish cheese from Dalsspira - cauliflower - grilled butter sauce - truffle
Main course
Soy-baked celeric - bean croquette - jerusalem artichoke - black pepper sauce
Dessert
Valrhona chocolate bavarois - sea buckthrorn and yogurt sorbet - mille fuille - white chocolate crisps