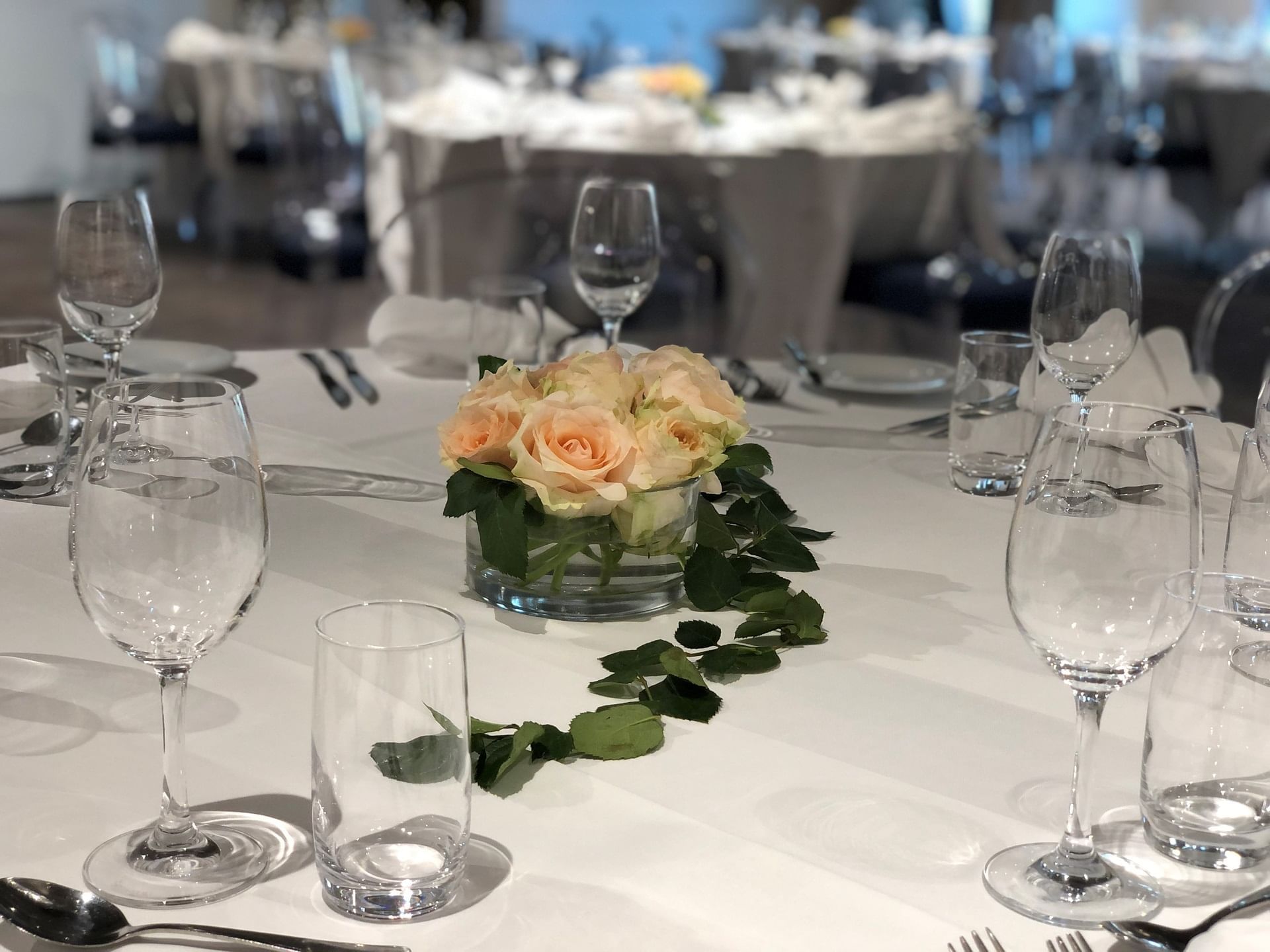 Life is full of precious moments worth celebrating. Share your dreams with us and let our team make them come true.
Perhaps you're looking for a modern and contemporary Gothenburg banquet room for your wedding party or corporate event? A gala dinner, an anniversary celebration, a cocktail reception, a baby shower or a birthday celebration? Our trained team will help you plan and compose the event you wish for. One of our dedicated team members will be your personal contact person, available to you throughout the entire process from inquiry to execution in order to ensure that the highest quality of service is being provided to you. With versatile Gothenburg venues and the best technical amenities in-house, the possibilities end with your imagination. The culinary experience is an important aspect of any event, let our talented team of chefs contribute to creating an unforgettable experience.
With Gothenburg function rooms for up to 400 people, we can arrange anything from a small intimate gathering to a large-scale party. Let us assist you with tailoring your event from planning through to execution, we'll make it to the one you will remember.

Private Dinners and Parties
Our experienced and attentive team will make sure that all the details are taken care of, so sit back and relax, you are in excellent care. Restaurant ONE, available for private hire, is one of Gothenburg's most inviting modern and contemporary restaurants on the waterfront. Allowing great views over the harbour with panoramic windows from floor to ceiling, it is a truly delightful place to enjoy dinner or party. With a private bar, Dandy Bar, in the venue and the possibility to open the wall to the banquet hall in conjunction with Restaurant ONE your guest can be prepared for a night they won't forget.
The culinary experience is an important aspect of any event, our talented team of chefs will compose seasonal menus for larger groups with great care. Wine pairings recommended by our sommelier will be available to be added on top of your chosen menu. Let one of our brilliant bartenders ensure the party keeps going with exciting creations from Dandy Bar whilst a band or DJ plays on the 22 sqm stage.
For corporate events, we understand you might need to combine business with pleasure. Our Restaurant ONE and event spaces are all equipped with the highest standard of technology, with immaculate sound systems and projector screens as well as adjustable lighting systems, which ensures that you can seamlessly hold your presentation or speeches during dinner or the event.
Perhaps you're looking for a more intimate space for a smaller gathering, corporate kick-off or lavish cocktail party? Let us invite you to our elegant ground floor venue, hosting up to 70 guests. With double doors opening to the private patio, it is a perfect spot for your next spring or summer event.
Weddings
The contemporary and luxury environment of Hotel Riverton offers a wonderful setting for everything surrounding your big day, anything from the engagement party, rehearsal dinner to the reception and of course, the wedding night. Host your Gothenburg event in an elegant space overlooking the harbour and with a team of experienced employees who understands the importance of detail to ensure your day remains perfect. Our skilled culinary team will create inspiring menus, the sommelier helps you find the perfect wines and bubbles, bartenders create personalized cocktails just for you and technicians ensuring your speeches go smoothly and effortless.

A Romantic Setting
Looking for that perfect spot for your engagement? Or an intimate anniversary dinner? Let us help you make it extra special with the support of our experienced team, and amazing scenery with the panoramic view of Gothenburg harbour from View Skybar & Restaurant. With an excellent culinary team, a lovely selection of vintage and non-vintage wines and champagne together with award-winning bartenders, we are certain View will be the perfect romantic setting for you.