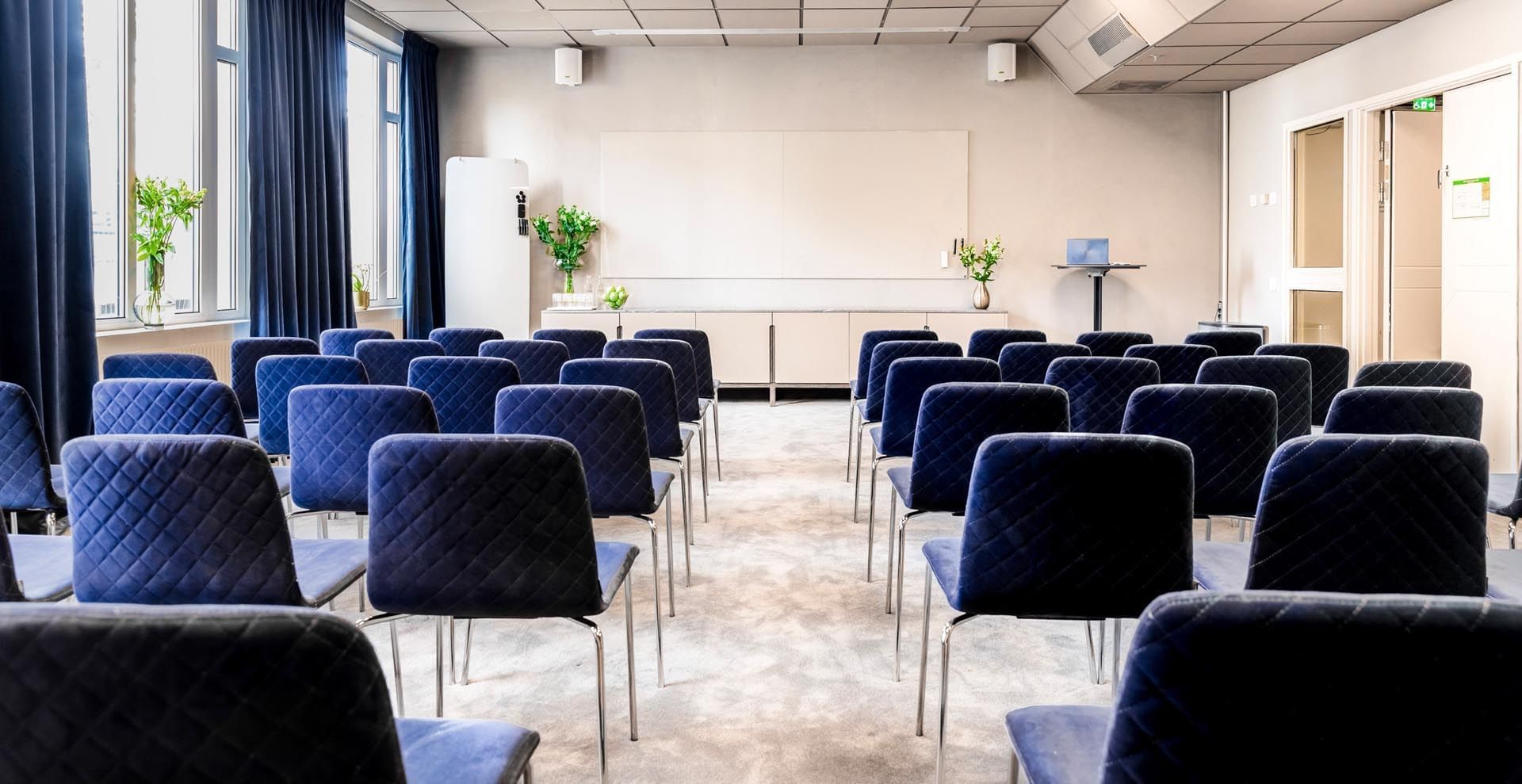 The perfect venue for your meeting in Gothenburg
Hotel Riverton offers 16 flexible conference rooms in Gothenburg, including 4 break-out rooms and one larger venue that accommodates between 2- 400 people and can be furnished to suit your meeting or event. Some of our rooms have flexible walls meaning that they can accommodate both a small and a large scale of people depending on your request.
We offer the latest technology including ceiling-mounted projectors, PA systems, hearing induction loop and everything else to create the perfect mood for different occasions. Our on-site Conference coordinators are always here to help by guiding you through your event – from inquiry to your event going live and beyond.
We only have two conference rooms that are not flexible – called The Boardroom and The Business Suite.
The Boardroom is luxuriously decorated with comfortable chairs and a specially constructed table with a non-reflecting surface. This conference room is suited for video conferences for 2-10 delegates and your meeting can be recorded and/or broadcasted.
Our video conference centre consists of one studio solution and one mobile solution. The studio solution has been installed in our new boardroom/studio, where the whole room has been designed to meet the high demands that an advanced video conference requires.
The mobile unit can also be mounted in most of our larger conference rooms and are suited for larger parties/groups and in connection with seminars where guest speakers might participate.
Facilities included
Projector and screen
Flip chart
White board
Wireless internet
Mineral water
Pens and paper
| Room | Theater | Classroom | U-shape | Fishbone | Island | Boardroom | Mingle / Cocktail | Banquet Seating |
| --- | --- | --- | --- | --- | --- | --- | --- | --- |
| Conference Room 1 | 100 | 50 | 26 | 42 | 50 | - | 100 | - |
| Conference Room 2 | 150 | 80 | 38 | 60 | 80 | - | 140 | - |
| Conference Room 3 | 70 | 36 | 24 | 30 | 36 | - | - | - |
| Conference Room 4 | 42 | 24 | 20 | 24 | 24 | - | 70 | - |
| Conference Room 5 | 80 | 40 | 26 | 30 | 18 | - | - | - |
| Conference Room 6 | 40 | 20 | 16 | 18 | 20 | 18 | - | - |
| Conference Room 5+6 | 110 | 60 | 34 | 48 | 60 | - | - | - |
| Conference Room 7 | 80 | 40 | 26 | 30 | 40 | - | - | - |
| Conference Room 8 | 40 | 20 | 16 | 18 | 20 | 18 | - | - |
| Conference Room 7+8 | 110 | 60 | 34 | 48 | 60 | - | - | - |
| Conference Room 9 | 28 | 18 | 16 | 12 | 18 | 14 | - | - |
| Conference Room 10 | 20 | 16 | 10 | 12 | 16 | - | - | - |
| Conference Room 9+10 | 50 | 40 | 26 | 30 | 40 | 22 | - | - |
| | |
| --- | --- |
| Theater | 100 |
| Classroom | 50 |
| U-shape | 26 |
| Fishbone | 42 |
| Island | 50 |
| Boardroom | - |
| Mingle / Cocktail | 100 |
| Banquet Seating | - |
| | |
| --- | --- |
| Theater | 150 |
| Classroom | 80 |
| U-shape | 38 |
| Fishbone | 60 |
| Island | 80 |
| Boardroom | - |
| Mingle / Cocktail | 140 |
| Banquet Seating | - |
| | |
| --- | --- |
| Theater | 70 |
| Classroom | 36 |
| U-shape | 24 |
| Fishbone | 30 |
| Island | 36 |
| Boardroom | - |
| Mingle / Cocktail | - |
| Banquet Seating | - |
| | |
| --- | --- |
| Theater | 42 |
| Classroom | 24 |
| U-shape | 20 |
| Fishbone | 24 |
| Island | 24 |
| Boardroom | - |
| Mingle / Cocktail | 70 |
| Banquet Seating | - |
| | |
| --- | --- |
| Theater | 80 |
| Classroom | 40 |
| U-shape | 26 |
| Fishbone | 30 |
| Island | 18 |
| Boardroom | - |
| Mingle / Cocktail | - |
| Banquet Seating | - |
| | |
| --- | --- |
| Theater | 40 |
| Classroom | 20 |
| U-shape | 16 |
| Fishbone | 18 |
| Island | 20 |
| Boardroom | 18 |
| Mingle / Cocktail | - |
| Banquet Seating | - |
| | |
| --- | --- |
| Theater | 110 |
| Classroom | 60 |
| U-shape | 34 |
| Fishbone | 48 |
| Island | 60 |
| Boardroom | - |
| Mingle / Cocktail | - |
| Banquet Seating | - |
| | |
| --- | --- |
| Theater | 80 |
| Classroom | 40 |
| U-shape | 26 |
| Fishbone | 30 |
| Island | 40 |
| Boardroom | - |
| Mingle / Cocktail | - |
| Banquet Seating | - |
| | |
| --- | --- |
| Theater | 40 |
| Classroom | 20 |
| U-shape | 16 |
| Fishbone | 18 |
| Island | 20 |
| Boardroom | 18 |
| Mingle / Cocktail | - |
| Banquet Seating | - |
| | |
| --- | --- |
| Theater | 110 |
| Classroom | 60 |
| U-shape | 34 |
| Fishbone | 48 |
| Island | 60 |
| Boardroom | - |
| Mingle / Cocktail | - |
| Banquet Seating | - |
| | |
| --- | --- |
| Theater | 28 |
| Classroom | 18 |
| U-shape | 16 |
| Fishbone | 12 |
| Island | 18 |
| Boardroom | 14 |
| Mingle / Cocktail | - |
| Banquet Seating | - |
| | |
| --- | --- |
| Theater | 20 |
| Classroom | 16 |
| U-shape | 10 |
| Fishbone | 12 |
| Island | 16 |
| Boardroom | - |
| Mingle / Cocktail | - |
| Banquet Seating | - |
| | |
| --- | --- |
| Theater | 50 |
| Classroom | 40 |
| U-shape | 26 |
| Fishbone | 30 |
| Island | 40 |
| Boardroom | 22 |
| Mingle / Cocktail | - |
| Banquet Seating | - |