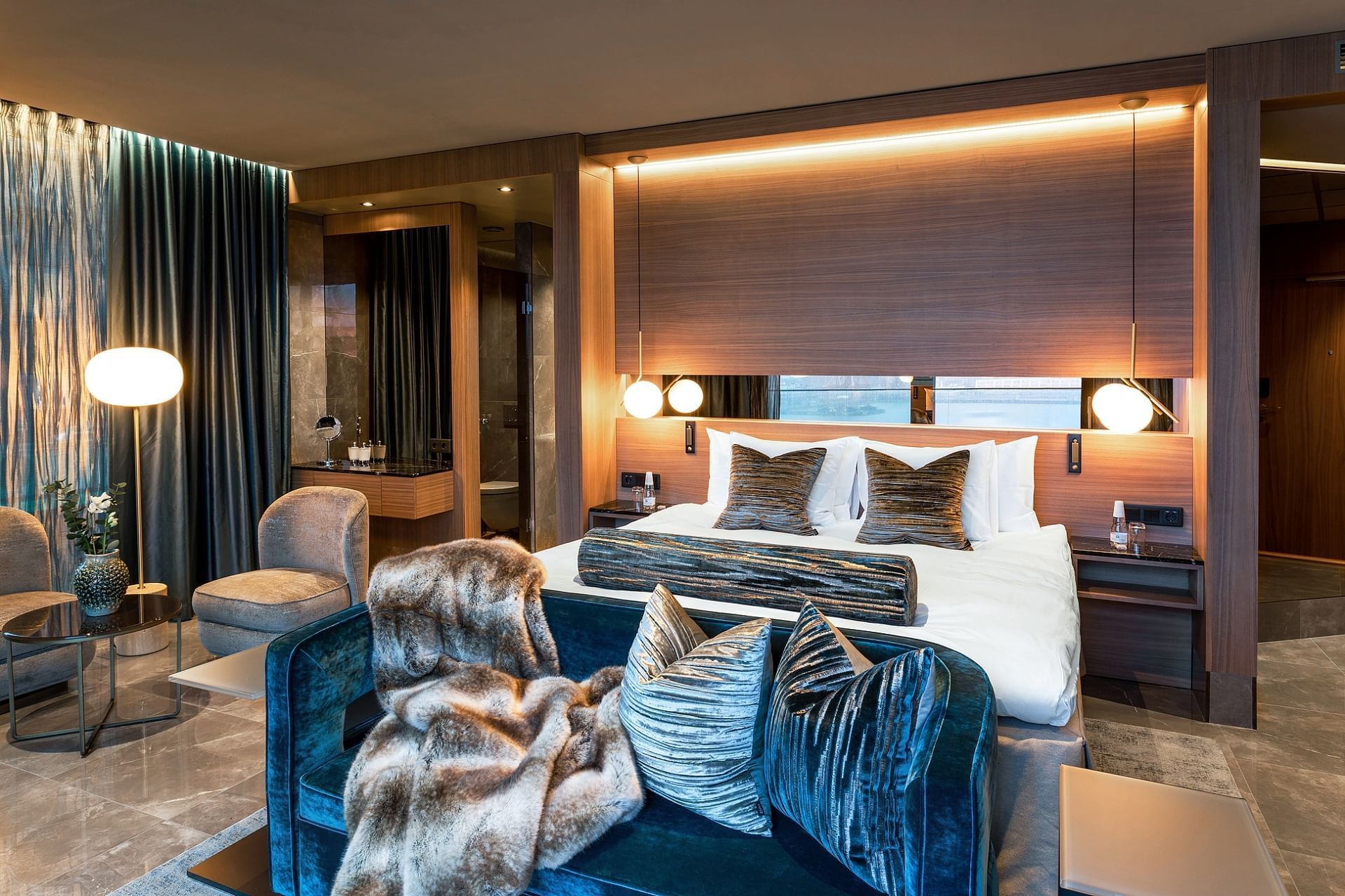 Enjoy Comfortable Accommodation
Compare Rooms
Select up to 4 rooms to compare
Stay with us in central Gothenburg
The rooms & suites and apartments at Hotel Riverton in Gothenburg are designed to provide the comfort and style all our guests deserve. We offer four different room categories, Premium rooms & suites which are located between floor 7-11 in the building, Deluxe rooms located on floor 2-6 and Superior rooms & suites located on floor 2-6. Then we have our Penthouse rooms on floor 7 and Apartments in an associated building.
Each room has been meticulously furnished with a contemporary elegant design and provides everything to ensure your holiday or your business stay in Gothenburg is more than comfortable.
Our rooms offer a quality DUX bed, fluffy natural down duvet and pillows and 100% Egyptian cotton linens. All bathrooms are provided with Rituals products of the best quality with fragrance after season. NEWS - We have new smart TVs in all hotel rooms that are equipped with Chromecast! This means that you can stream your own series, movies, news channels and so on when you stay with us.
All our rates always include complimentary unlimited Wi-Fi and access to Serenity Gym. Some of our rates also include a fantastic breakfast buffet.
The hotel offers a brand-new Spa, Serenity Spa, located on the ground floor. Immerse yourself in our inviting indoor pool, enjoy your experience showers and saunas, or relax at your own pace in our Spa Lounge. All our guests are most welcome to add access to their room key against a fee.
We have a gym located on the ground floor, open daily between 06:00 AM – 10:00 PM. The access charge is SEK 75, if you book directly with us you can use the gym free of charge during your stay. The gym access will be added to your room key.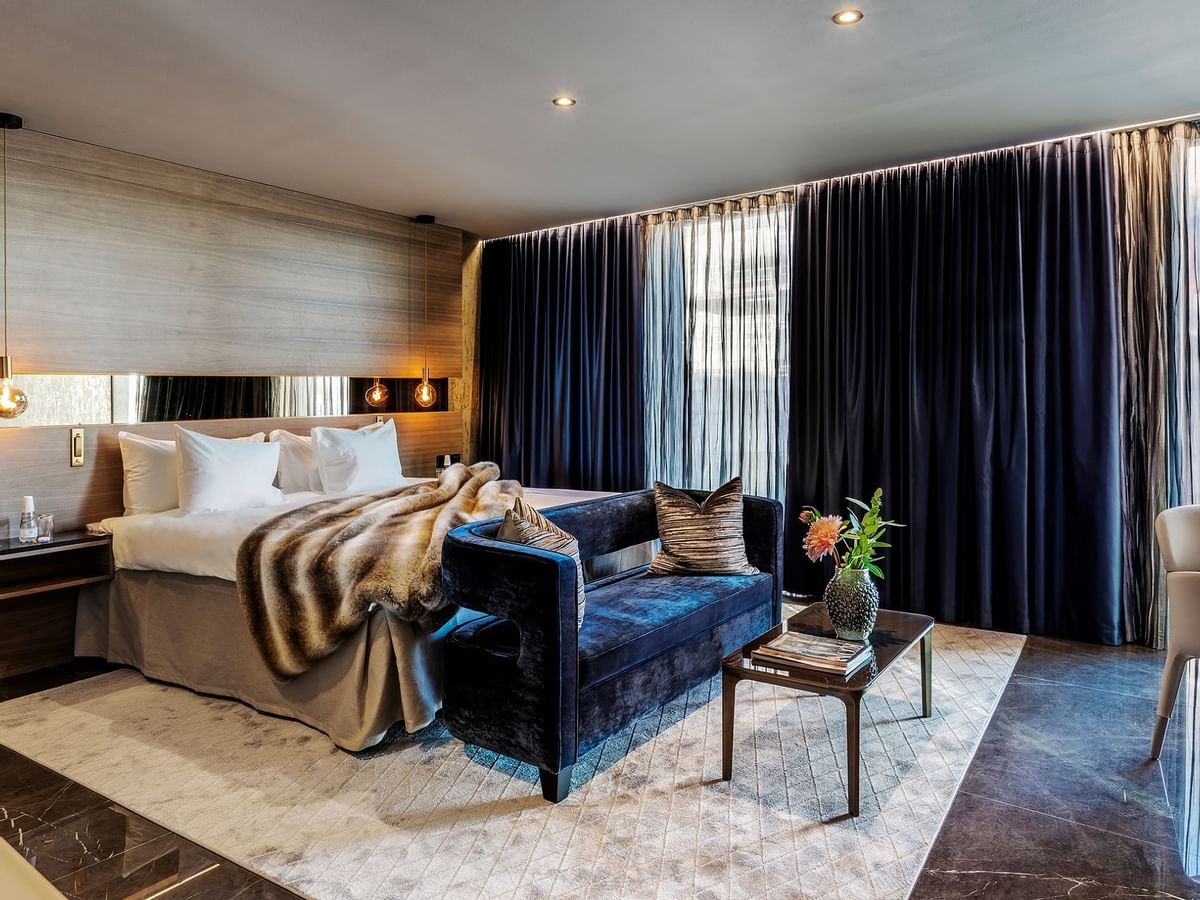 2355.00 kr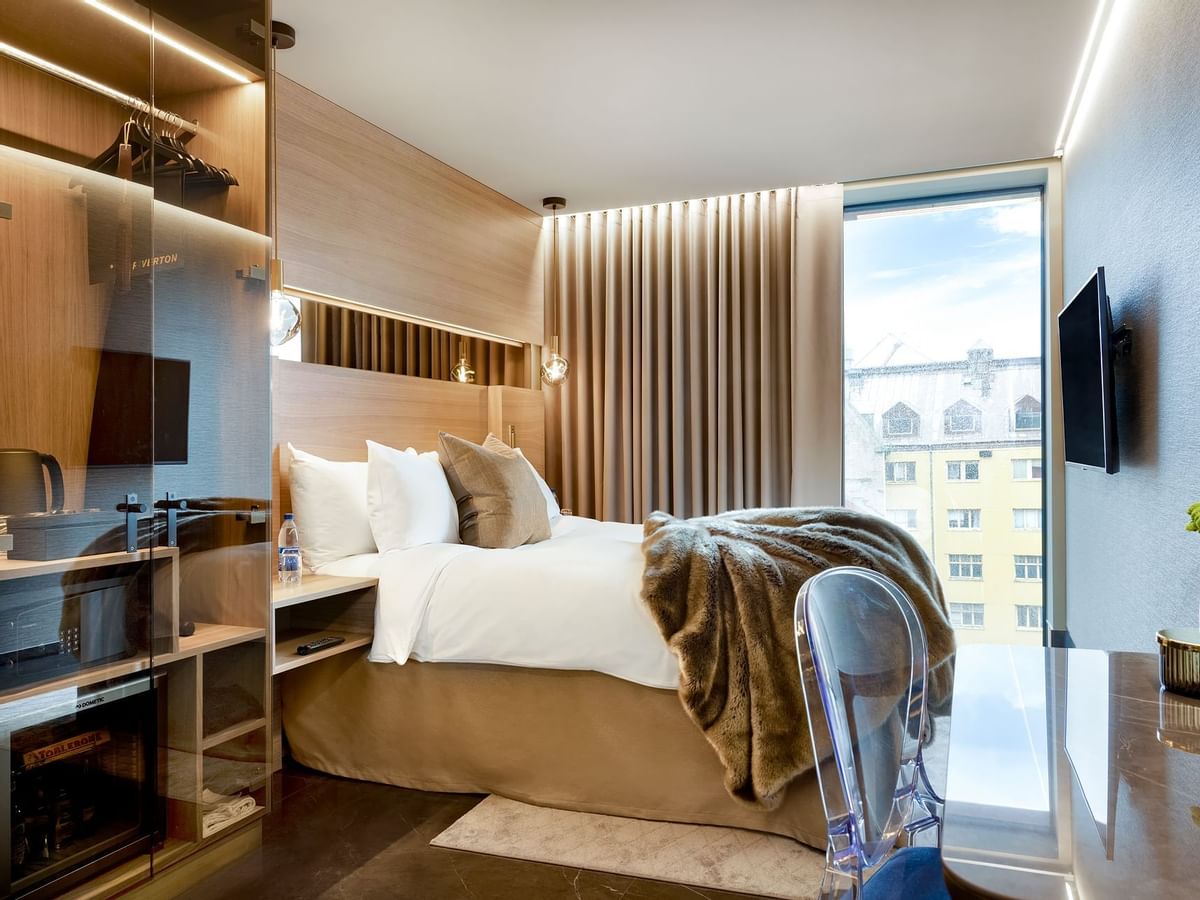 1705.00 kr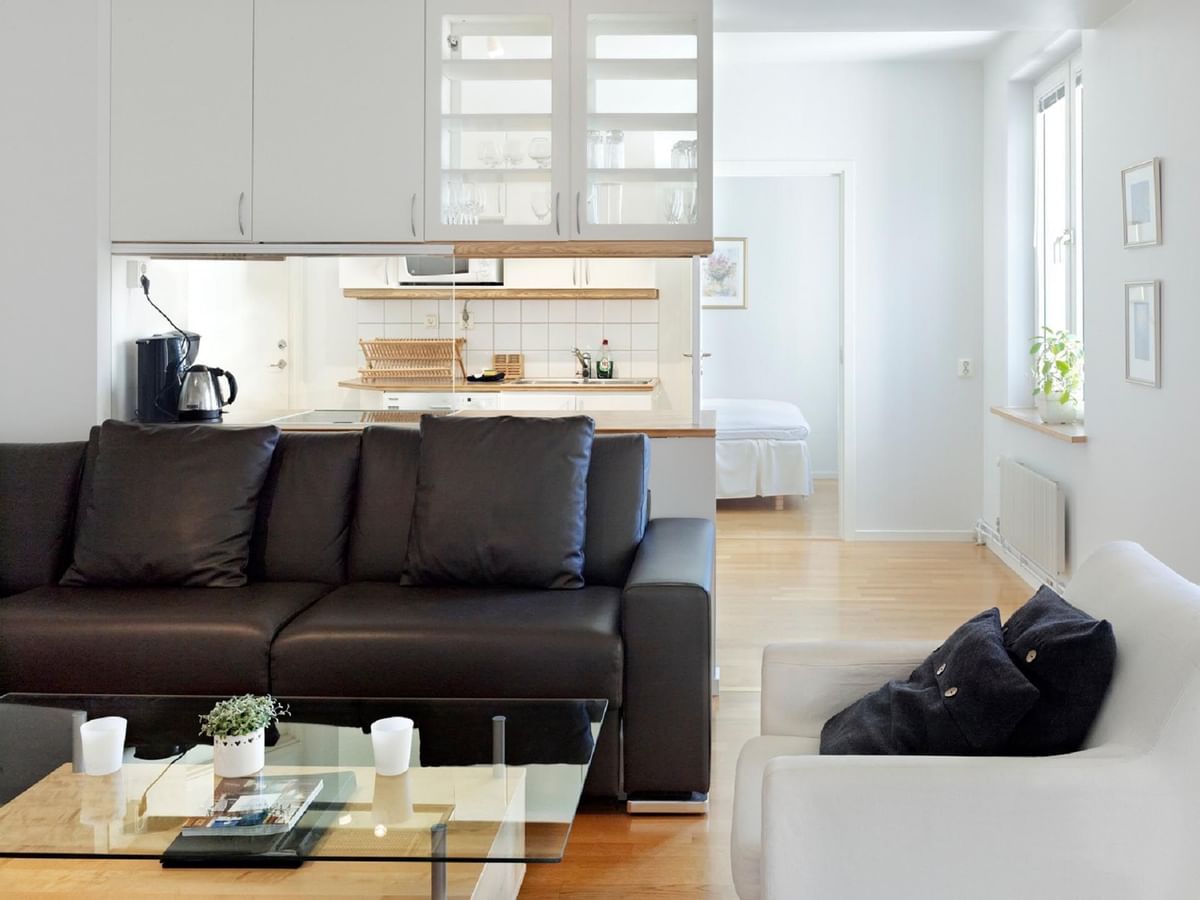 From 2355.00 kr
Hotel Riverton offers six fully equipped, spacious apartments in Gothenburg suitable for business guests and families, it's a "home away from home" with a bit of extra added comfort.
Compare Rooms
Add at least 2 rooms to compare.
Size
Bed
Capacity
Facilities
Price (From)

Book Now

35m²
King Bed
2 People

Serenity Spa access
Limited age
Turndown Service
King-sized DUX bed
Duvet mattress
Private terrace
Rain shower
Complimentary hotel breakfast
Gym access
Air condition
Free internet access
55" flat screen HD-TV with built-in Chromecast
RITUALS bathroom amenities
Nespresso machine
Bathrobe and slippers
Safe deposit box
Complimentary sparkling water
Minibar

5195.00 kr

Book Now

32m²
King Bed
4 People

King-sized DUX bed
Duvet mattress
Queen-sized sofa bed
Rain shower
Air condition
Free internet access
55" flat screen HD-TV with built-in Chromecast
RITUALS bathroom amenities
Nespresso machine
Bathrobe and slippers
Safe deposit box
Complimentary sparkling water
Minibar

2255.00 kr

Book Now

32m²
King Bed
4 People

King-sized DUX bed
Duvet mattress
Queen-sized sofa bed
Rain shower
Air condition
Free internet access
55" flat screen HD-TV with built-in Chromecast
RITUALS bathroom amenities
Nespresso machine
Bathrobe and slippers
Safe deposit box
Complimentary sparkling water
Minibar

2155.00 kr

Book Now

22m²
Queen Bed
2 People

Queen-sized DUX bed
Duvet mattress
Rain shower
Air condition
Free internet access
43" flat screen HD-TV with built-in Cromecast
RITUALS bathroom amenities
Nespresso machine
Bathrobe and slippers
Safe deposit box
Complimentary sparkling water
Minibar

2105.00 kr

Book Now

22m²
Queen Bed
2 People

Queen-sized DUX bed
Duvet mattress
Rain shower
Air condition
Free internet access
43" flat screen HD-TV with built-in Cromecast
RITUALS bathroom amenities
Nespresso machine
Bathrobe and slippers
Safe deposit box
Complimentary sparkling water
Minibar

1805.00 kr

Book Now

14m²
Single Bed
1 People

Large single DUX bed
Duvet mattress
Rain shower
Air condition
Free internet access
43" flat screen HD-TV with built-in Cromecast
RITUALS bathroom amenities
Bathrobe and slippers
Safe deposit box
Complimentary sparkling water
Minibar

1445.00 kr

Book Now

34m²
King Bed
2 People

King-sized DUX bed
Duvet mattress
Rain shower
Air condition
Free internet access
55" flat screen HD-TV with built-in Chromecast
RITUALS bathroom amenities
Nespresso machine
Bathrobe and slippers
Safe deposit box
Complimentary sparkling water
Minibar

2355.00 kr

Book Now

17m²
Queen Bed
2 People

Queen-sized DUX bed
Air condition
Free internet access
43" flat screen HD-TV with built-in Cromecast
RITUALS bathroom amenities
Safe deposit box
Complimentary sparkling water
Minibar

1705.00 kr

Book Now

33m²
King or Queen Bed
3 People

King or Queen-sized DUX bed
49" flat screen HD-TV with built-in Cromecast
Sofa bed
Air condition
Free internet access
RITUALS bathroom amenities
Bathrobe and slippers
Safe deposit box
Complimentary sparkling water
Minibar

1655.00 kr

Book Now

22m²
Queen Bed
3 People

49" flat screen HD-TV with built-in Cromecast
Queen-sized DUX bed
Sofa bed
Air condition
Free internet access
RITUALS bathroom amenities
Safe deposit box
Complimentary sparkling water
Minibar

1545.00 kr

Book Now

20m²
2 Single Beds
2 People

49" flat screen HD-TV with built-in Cromecast
2 Single Beds
Air condition
Free internet access
RITUALS bathroom amenities
Safe deposit box
Complimentary sparkling water
Minibar

1195.00 kr

Book Now

14m²
Single Bed
1 People

49" flat screen HD-TV with built-in Cromecast
Large single DUX bed
Air condition
Free internet access
RITUALS bathroom amenities
Safe deposit box
Complimentary sparkling water
Minibar

1195.00 kr

Book Now

90m²
Queen Bed & 1 Sofa Bed
2-4 People

DUX beds
Sofa bed
Weekly housekeeping service
Complimentary hotel breakfast
Gym access
Free internet access
55" flat screen HD-TV with built-in Chromecast
RITUALS bathroom amenities
Nespresso machine

2355.00 kr