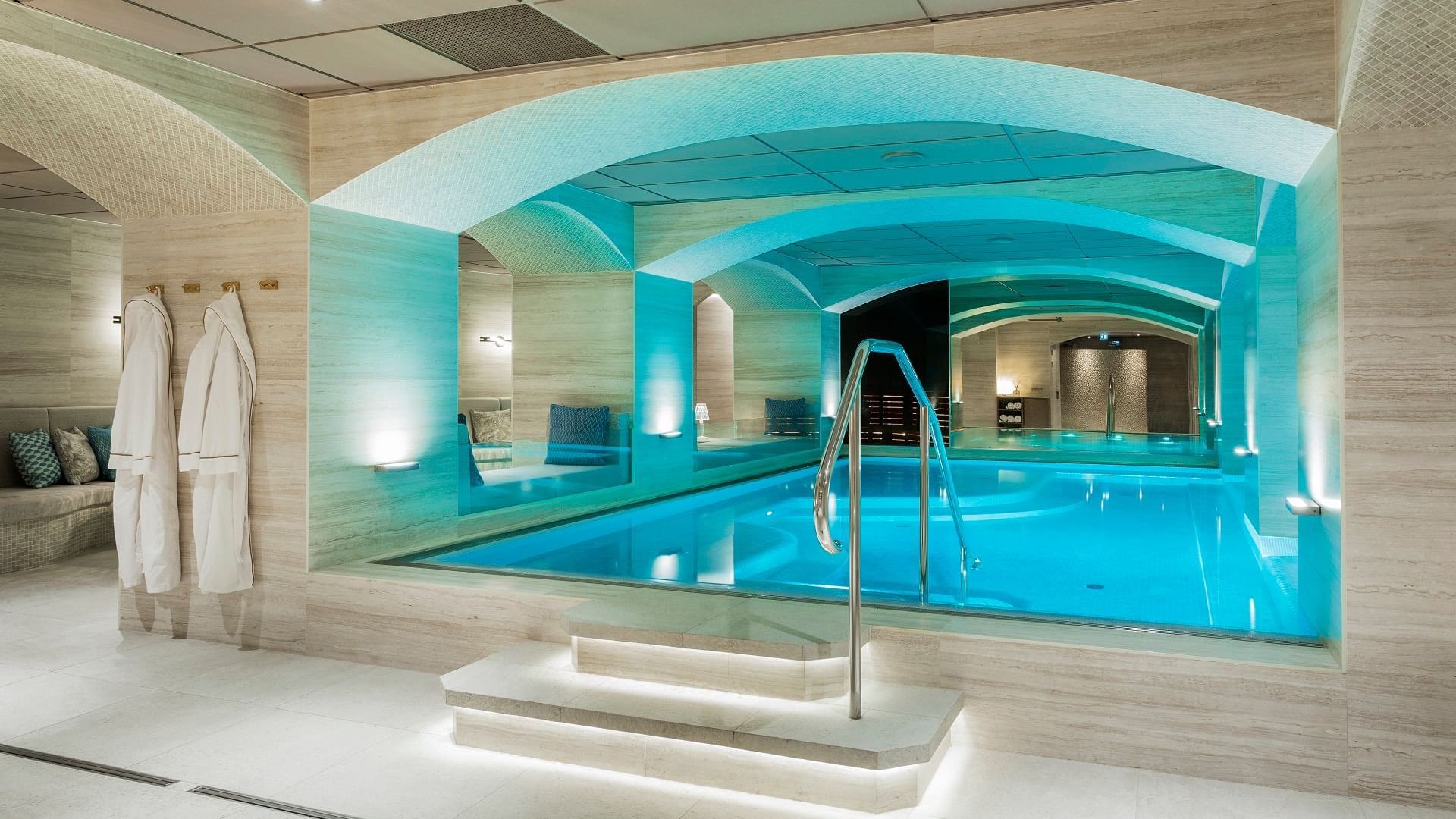 Welcome to our new Spa
Relax and rejuvenate in the aesthetically simple and serene Spa at Hotel Riverton in Gothenburg.
A place for your stress levels to drop and your well-being and creativity to increase. Give yourself a well-deserved break and recover while staying with us.
The design is focusing on earthy tones and materials that create a soothing atmosphere, we want you to feel harmony in order to let go of your everyday life for a while. It is aesthetically simple and calm to help you focus on your health and relaxation.
Immerse yourself in our inviting indoor pool, enjoy experience showers and saunas, or relax at your own pace in our Spa Lounge. We offer three different saunas: aromatherapy, hammam, and dry sauna. Our aromatherapy sauna is used to enhance your mood, relax your body, or tune your mind. The essential oils are absorbed into the bloodstream and metabolized in the body, resulting in health benefits. Meanwhile, the hammam helps you relieve stress, improves your skin health, and body cleansing.
Serenity Spa offers the following facilities:
SERENITY POOL
Slip into the warm and glittering turquoise water located beneath impressive marble vaults, this is a pool ideal to relax and rejuvenate in. With its organic shapes and a temperature of 37 degrees, it is a truly unique experience. Sit back and enjoy in style on the different levels, taking in the warm and lush aesthetics of this stunning spa. Why not just float and forget the outside world for a bit?
AROMATHERAPY SAUNA
The atmosphere and aromas in this fantastic sauna boost your energy levels whilst enhancing mindfulness. A modern hybrid between a dry and a steam sauna, with enchanting music and rejuvenating aromas, the temperature is 55 degrees with a humidity level of 45%. We find it perfect to unwind in and find an inner balance here, where the lighting, aromas, and warm temperature enfolds you to really settle down and relax. Feel the mental tensions slowly untangle with every deep breath, and your muscles relax from the heat… It is no wonder this has become a favorite amongst our guests.
HAMMAM
Our Hammam is a steam sauna that draws you away from reality for a bit. The thick steam, the temperature level at 45-50 degrees, and with a humidity level of 100%, it is a wonderful spot to revitalize and calm down in. The combination of heat and steam is a miracle cure for the skin and the soothing environment causes the body's stress levels to decrease. The heat in the steam relaxes tense muscles whilst the metabolism is stimulated, this is a sauna with many health benefits.
TRADITIONAL DRY SAUNA
From our dry sauna, you'll have a blissful view over the pool with our one-way windows so that you still enjoy the sauna in privacy. The temperature is set between 70-80 degrees and a humidity level of 30%. Outside the sauna, you will find a rain shower with cold water, for the optimal sauna experience. We recommend varying your dry sauna with a cold shower as it will activate your blood vessels and enhance your overall experience.
All types of saunas cleanse the body and skin of slag products. Therefore, it is very good to alternately scrub and shower to help remove what the body has cleansed away.
EXPERIENCE SHOWERS
These elegant ceiling showers invite you to a modern shower experience, with 3 different types of jet streams, one of which is a waterfall setting. We invite you into a customized and untraditional shower experience.
HEATED BEDS
Our beautiful heated lounge beds are ergonomically shaped to hug the body and embraces you to full relaxation with their heated surface. With a glimmering golden wall behind you, the heat, and an enchanting view over the pool area, it is easy to lose track of both time and place here... It is no surprise these lounge beds have become a favorite amongst our customers.
SPA LOUNGE
Start or end your journey by settling down in the relaxation area in your fluffy robe with a steaming cup of herbal tea or a glass of our chef's detox water. Unwind in the stylish sofas or enjoy some time for yourself with a magazine or book in the sofas. Allow yourself a tranquil moment here, designed to reconnect and relax your mind, body, and spirit.
All our guests are most welcome to add access to their room key against a fee. Our Spa is located on the ground floor.
Monday-Sunday 09:00-12:00, 12.00-15.00, 15.00-18.00 and 19:00-22:00
Kindly note that Serenity Spa is well attended between 17:00-19:00, we recommend you to go outside these times for an extra harmonious experience.
To avoid disappointment, we highly recommend that you book Spa access well in advance as it gets fully booked during the weekends. Send us a request at riverton@riverton.se and we'll check the availability for you.
ENTRANCE FEE
From SEK 495 per person / day
DAY SPA ENTRANCE FEE
From SEK 595 per person / day
Available Sunday-Thursday.
AGE REQUIREMENT
The minimum age requirement to enter the Spa facilities is 18 years old, from 16 years old if accompanied an adult.
CANCELLATION
Please note that your spa reservation must be canceled no later than 4 pm local time the day before arrival. Otherwise, the full amount that has been confirmed, will be charged.