Hotel Riverton
Design Hotel in Gothenburg
Welcome to Hotel Riverton
Gothenburg's personalised Design Hotel
Hotel Riverton is a design hotel located by the waterfront in central Gothenburg. Only a few minutes away from the hotel are some of the main attractions of the city; the historic district Haga, popular shopping street Kungsgatan, the central station and the old fort Skansen Krona, making our location the perfect base to explore the city.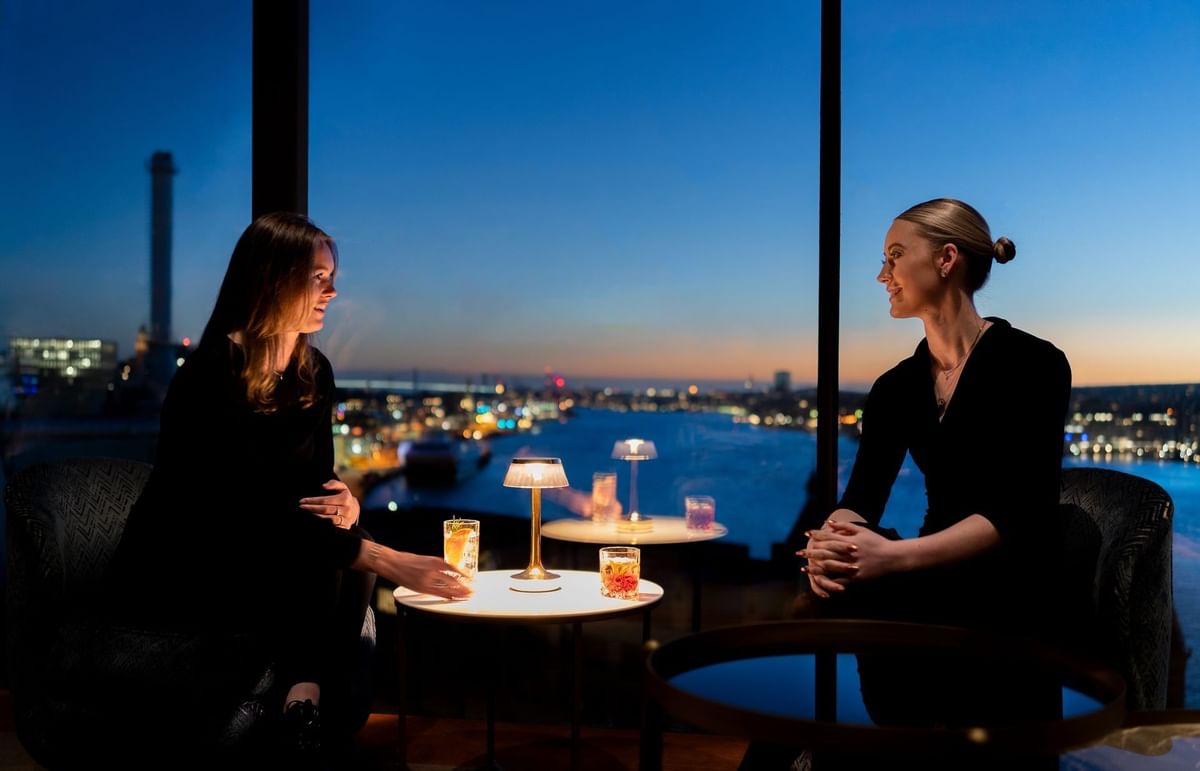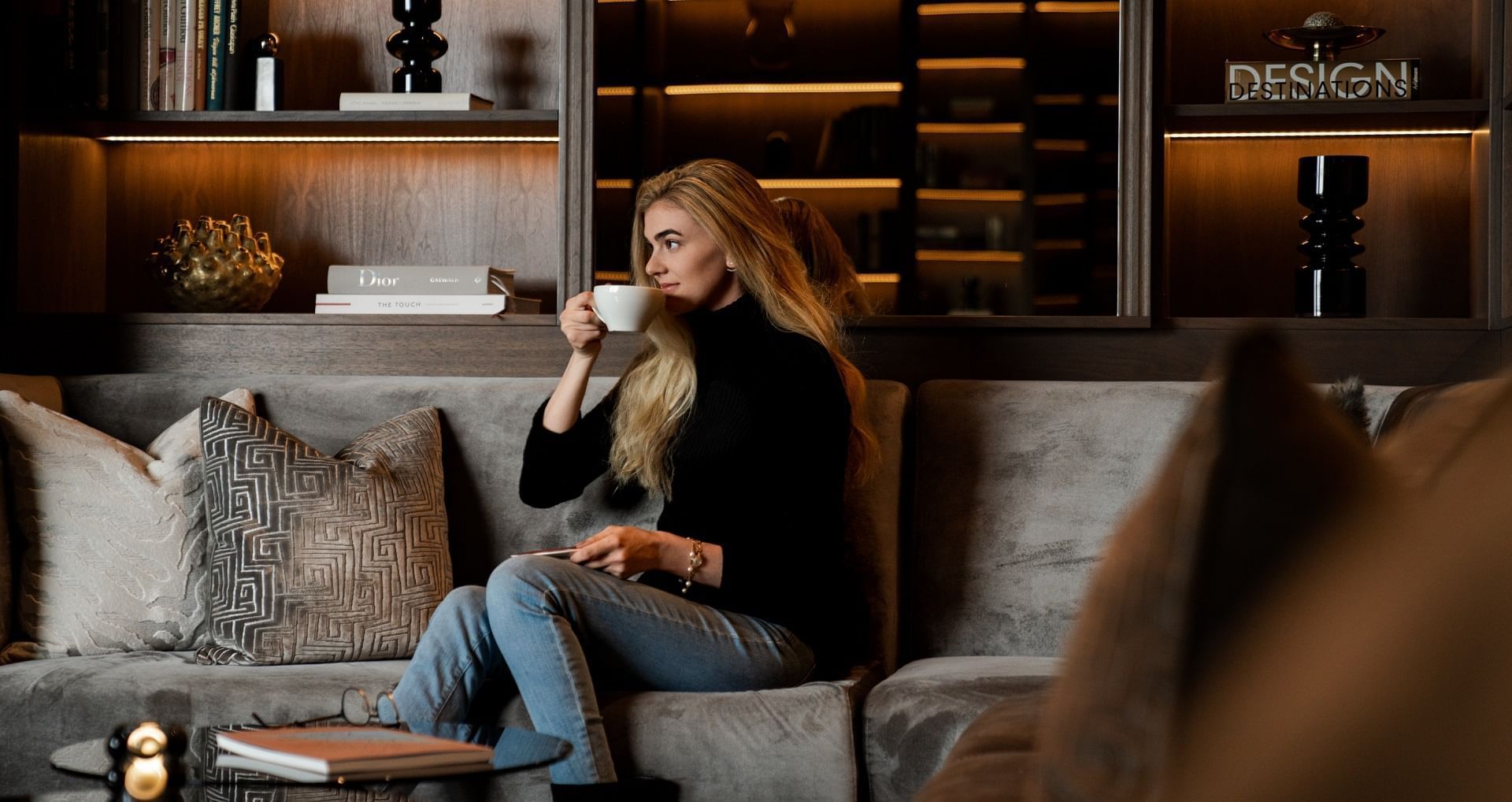 AUTUMN & WEEKEND OFFERS
BOOK YOUR WEEKEND GETAWAY
Enjoy a relaxing getaway in Gothenburg! Here at Riverton, we have several weekend offers and deals designed for your wishes and needs...
Why book directly with us?
Free access to the gym
Welcome drink
Breakfast Included
Best rate guaranteed
Rooms
Stay with us in central Gothenburg
We offer a selection of modern rooms and suites that provide everything to ensure your stay in Gothenburg is more than comfortable. For longer stays, we offer 6 full-service apartments.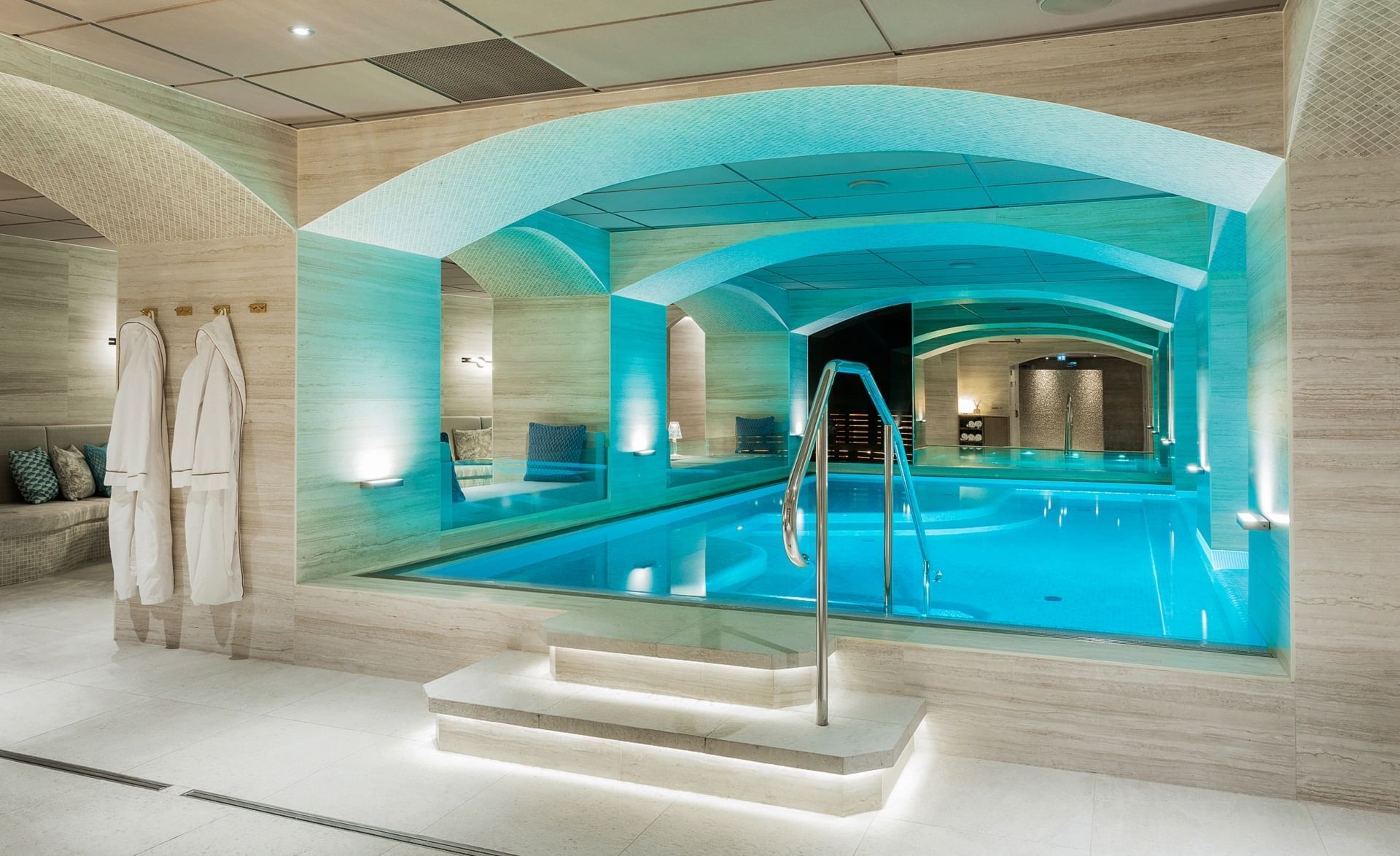 Serenity Spa
Relax at your own pace in our Spa Lounge
Most welcome to our brand-new Spa, Serenity Spa. Immerse yourself in our inviting indoor pool or enjoy our experience showers and saunas.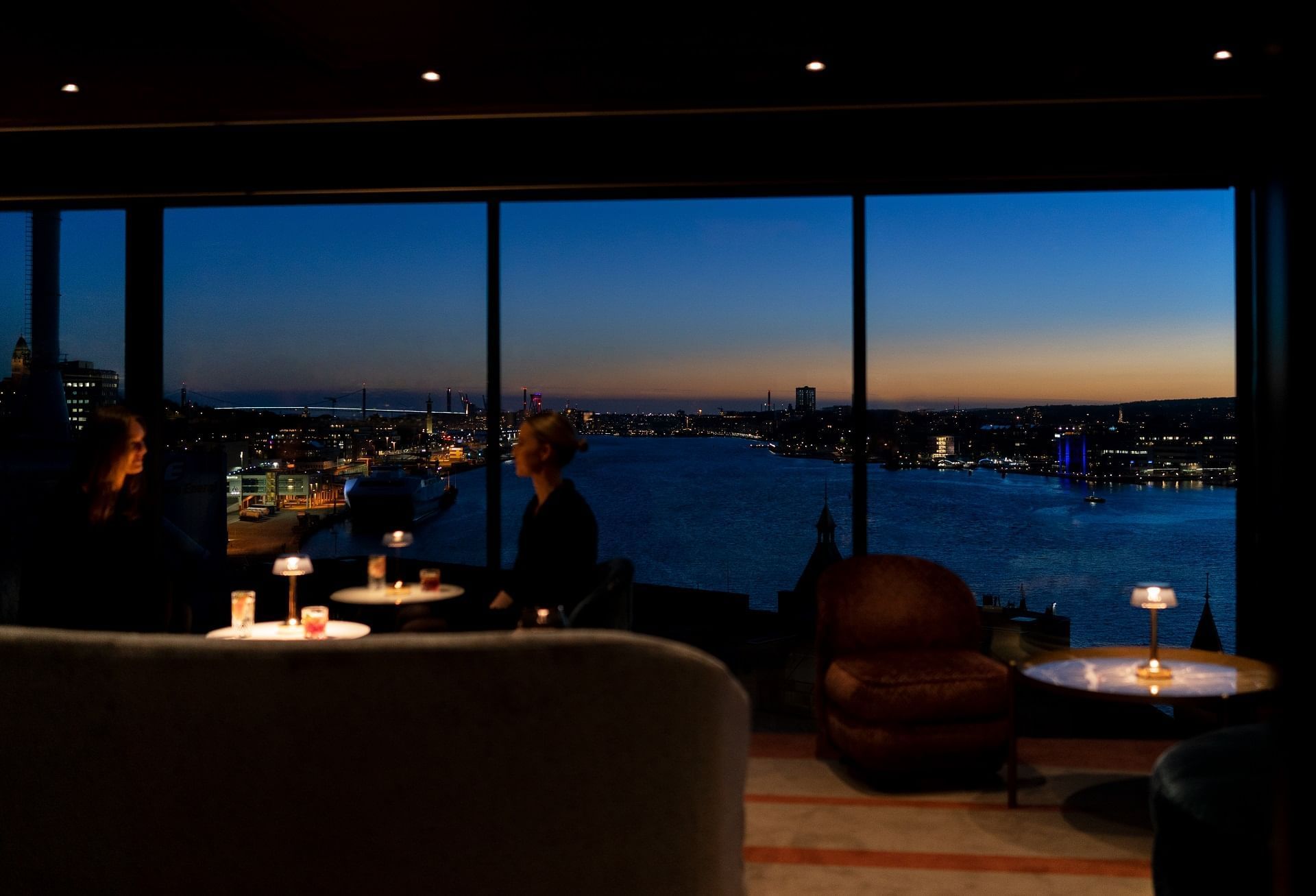 Eat & drink
The best view in the city!
Within the hotel, there are two restaurants, one skybar and one lobby bar, including View Skybar & Restaurant which is home to spectacular panoramic views across the Gothenburg harbour. We may be partial, but it really is the best view in the city! We also offer an event restaurant, Restaurant ONE on the first floor and a lobby bar, The Living Room with tasty drinks and lighter food.
facilities
Spa
Skybar
Breakfast
Waterfront Central Location
Conference Facility
Fitness Centre
Parking
Air Conditioning
Free Internet Access
RITUALS bathroom amenities
What our Guests say
A great getaway
The hotel is modern and designed with care, excellent service from the staff throughout our stay, breakfast is great with a lot of choice, the room we had was excellent with a gorgeous view. The restaurant on the top floor is really cozy with fine dining. The SPA facilities are great with a choice of saunas, steam room and pool for those relaxing times. Walking distance to the heart of Göteborg. Highly recommend a stay here.
Excellent Hotel
Stayed at Hotel Riverton for a week for the second time. The hotel is situated at an excellent location in the city. Hotel lounge and rooms are very comfortable and the sky-bar offers some great views. The staff are friendly and the breakfast is excellent.
Remarkable experience!
I spent 31 nights in this beautiful hotel. The staffs were helpful and did everything they could to make me feel comfortable even during my quarantine.

The restaurant upstairs is the icing on the cake.

I recommend to everyone visiting Gothenburg this lovely hotel.

Thank you for the great experience!
See you all soon : )
Hotel with a Heart!
A beautiful hotel with a great atmosphere. The staff are super friendly and helpful. The rooms and public areas have lovely touches and attention to detail. Breakfast was superb. I really loved my stay!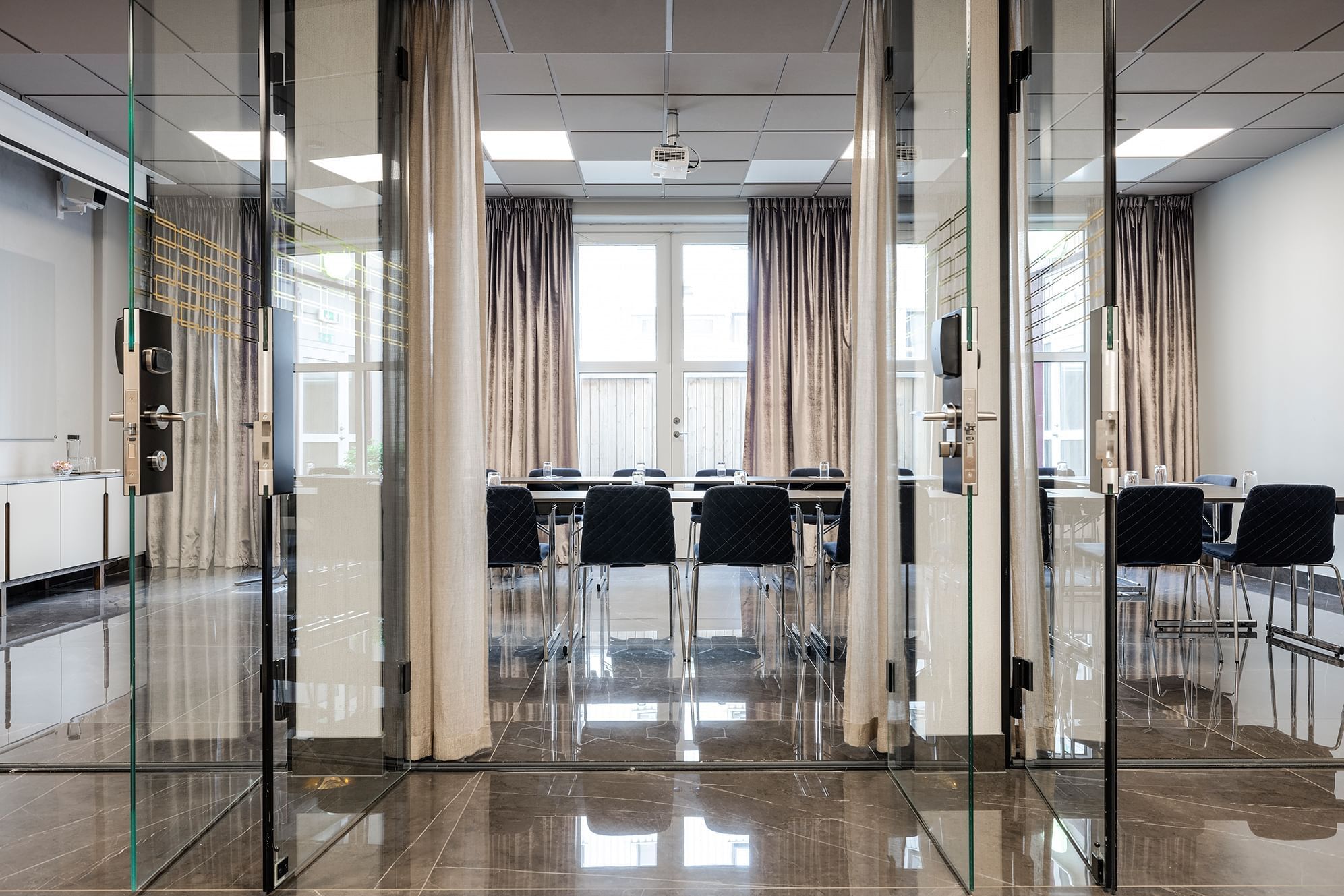 Meetings & events
Organise your meeting or event at Hotel Riverton
Meeting and Events at Hotel Riverton are always tailored and personalised to the need of our clients. Whether you need to hire a room for a meeting or exhibition, we have the capacity and the flexibility to accommodate your needs. With 18 conference and meeting rooms, there is a room for any size event and our on-site Conference coordinators are on hand to guide you through your event – from inquiry through to your event going live and beyond.
Location
The perfect base from which to explore the city and the surrounding sights.
HOTEL RIVERTON
Stora Badhusgatan 26
SE-411 21 Gothenburg | Sweden
Hotel Riverton is a contemporary independent design hotel located centrally in Gothenburg by the waterfront which is fully family-owned and operated since 1991. With personal care and attention to detail in every aspect of our guest´s experience, we've integrated the feeling of comfort, charm, and style combined with excellent food and drink experiences.
Explore our story from our rooftop bar and restaurant to our rejuvenating spa and the comforts of our bedrooms – making us the perfect destination for those who love unfussy luxury.

Gothenburg is an exciting city with a lot to offer. Not least when it comes to the rich variety of restaurants and bars that help make Gothenburg a fantastic destination. Hotel Riverton is located in central Gothenburg in the Skeppsbron area, right next to the water with good connections to the whole of Gothenburg. With only a few minutes walk from the hotel you will find: the historic Haga district, the popular shopping street Kungsgatan and the old fortress Skansen Kronan, making our location the perfect base for exploring Gothenburg!
Welcome to a centrally located full service design hotel in Gothenburg. You will find us in the Skeppsbron area, with magnificent views over the water and with our own spa. We care about the total experience with a personal touch that only a family owned and operated hotel can offer. The sense of inspiring modern design permeates our entire hotel, from the interior design to the gastronomic experiences in the restaurants. With us you will sleep well in comfortable beds and wake up to a carefully prepared hotel breakfast.
START YOUR DAY IN THE BEST POSSIBLE WAY
What would a hotel stay be without waking up well rested in a DUX bed with lovely egyptian cotton sheets of the best quality and then going downstairs to enjoy a wonderful breakfast? For many, breakfast is the best part of staying in a hotel, and we at Hotel Riverton in Gothenburg agree. We offer a carefully selected hotel breakfast of the highest quality in an inviting environment and with a view of Gothenburg and the Skeppsbrokajen.
Our generous hotel breakfast has something for everyone. Homemade pastries and pancakes for the one with a sweet tooth, a classic continental selection for the hungry one and the chef's ginger shots and fresh fruit and veggies for the one opting for a healthier alternative. Locally, sustainably and organically produced ingredients are important for us and used to the greatest extent possible to ensure that all food served is of the highest quality To ensure that everyone can enjoy the best of staying in a hotel, our hotel breakfast has lactose- and gluten-free options. We also ensure that vegetarians and vegans find tasty options to start their day.
We look forward to making your hotel stay in Gothenburg a little more inspiring. Our environments should create memories whether our guests come for a romantic experience, spend time with family, visit us for work or want to organise a conference.
COME TO REST OR ORGANISE THE PERFECT EVENT
A good night's sleep is important and perhaps the very reason for staying in a hotel according to us. That's why our rooms, suites and apartments are carefully decorated with a modern, elegant design and are equipped with everything you need for a comfortable stay in Gothenburg. The hotel rooms offer a comfortable DUX bed, 100% Egyptian cotton sheets and a fluffy down duvet and a choice of two different down pillows from Norsk Dun. In the bathrooms you will find environmentally friendly branded products from Rituals.
Hotel Riverton is the perfect option for your event in Gothenburg. The spectacular view of the harbour from the hotel creates the right atmosphere for your corporate event, conference, dinner or wedding. We attach great importance to offering a personal service and you will always have a contact person with us who will accompany you every step of the way - from enquiry to implementation and follow-up.
Our entire conference area is newly renovated and equipped with the latest technology. Once on site, our conference technicians will take care of all the technical preparations so that you can concentrate on the day's content!
We have exquisitely decorated rooms, suites and apartments. To meet different needs and preferences, we have several different room options to choose from. All equally tastefully elegant and modernly furnished. to ensure a good night's sleep, the beds are of the highest quality from DUX, with fluffy duvets soursed from Norway and genuine egyptian cotton linens. The bathrooms are fully equipped and you will find branded products to add an extra touch of luxury to your stay.
We offer beautifully designed rooms and facilities for larger parties such as weddings, conferences and events, along with the professional assistance you need to plan everything so that you don't miss a single detail.
FOOD AND DRINK WHICH ADDS TO THE FULL EXPERIENCE
Our hotel offers complete experiences spiced up with fantastic food & beverages in central Gothenburg. Whether you want to enjoy a romantic dinner, celebrate a special day or organise a conference lunch with colleagues, the restaurants and bars at Hotel Riverton in Gothenburg offer gastronomic experiences for all occasions.
On the 12th floor with panoramic floor-to-ceiling windows you will find View Skybar & Restaurant. Enjoy an award-winning drink at the bar or experience our á la carte menu to a spectacular view of Gothenburg's harbour entrance. The menus draw inspiration from the best the Swedish west coast has to offer but with an international touch. We are committed to using the highest quality ingredients and we like to use as much locally produced produce as possible.
Please visit the heart of our hotel, our lobbybar The Livingroom where there are spacious areas with elegant details. Enjoy a book, work for a while or socialise over a glass of champagne in our library. Or why not drop by on an AW and round off the week with tasty drinks in a lovely setting? On Fridays and Saturdays we have a DJ playing some nice music to set a pleasant AW atmosphere and a good start to the evening.
Staying in a design hotel should be a total experience. From beautifully decorated guest rooms to food and drink in an atmosphere that leaves no one indifferent. In our restaurant and sky bar you can enjoy gastronomic experiences with a fantastic view over Gothenburg. Menus draw inspiration from the best the Swedish west coast has to offer but with a little international touch. We care about using the best ingredients and where we want to offer as much locally produced as possible, therefore the menu varies according to the season. We offer wine and other beverages to complete the experience. Our staff is always there to find an option that will appeal to all individual taste buds.In our skybar you can enjoy delicious and award-winning drinks in the lounge.
RELAX AND WORK OUT IN ELEGANT SURROUNDINGS
We offer beautiful and relaxing surroundings with the opportunity to indulge in a little something extra during your hotel stay in Gothenburg. Working out and keeping fit is as easy with us as it is at home. Here you will find a modern and newly built gym with, among other things, cardio machines and free weights from Precor. If you prefer to experience Gothenburg through an outdoor workout instead, we have ready-made routes from the hotel with different distances. You'll find these maps designed for a shoe in the closet of your hotel room.
Our spa is modern and appealing with carefully selected details. Relax in our heated indoor pool, in our hammam, dry sauna and aromatherapy sauna. Our spa lounge is designed to invite you to rest and recuperate, settle down with a comfortable bathrobe in beautiful surroundings where time easily flies by.
Keeping fit should be as easy with us as it is at home. Here you will find a modern and newly built gym with, among other things, cardio machines and free weights. If you prefer an outdoor workout, we can help you with routes at different distances. Our spa is modernly appealing with carefully selected details that provide inner harmony. Relax in a heated indoor pool, steam and dry sauna and with aromatherapy. Our spa lounge is designed to invite rest and recovery, settle in with a comfortable robe in beautiful surroundings where time easily slips away.
HOTEL IN GOTHENBURG WITH PARKING
You can easily reach us by car or public transport and our nearest bus/tram stop, Stenpiren, is 300 metres from the hotel.
If you arrive at the hotel and Gothenburg by car, we offer parking spaces in our garage for a fee. Three of them are currently adapted for electric cars. As we offer a limited number of our own spaces in the hotel's garage, which we recommend that you book well in advance. When you visit us, it's just as easy to get there no matter how you want to arrive. Gothenburg Central Station is only ten minutes away by public transport, walking takes around twenty minutes. If you need help with transport to the hotel, we will be more than happy to help you find the best solution for your stay.For those who need parking space, we offer secure parking in our garage for a fee. Please remember to book your parking space in advance so that we can guarantee you a space. We also have special parking spaces for electric cars. If the garage is fully booked, there is a communal car park opposite the hotel.
Read more about parking and prices here.
Welcome to Gothenburg's personalised design hotel!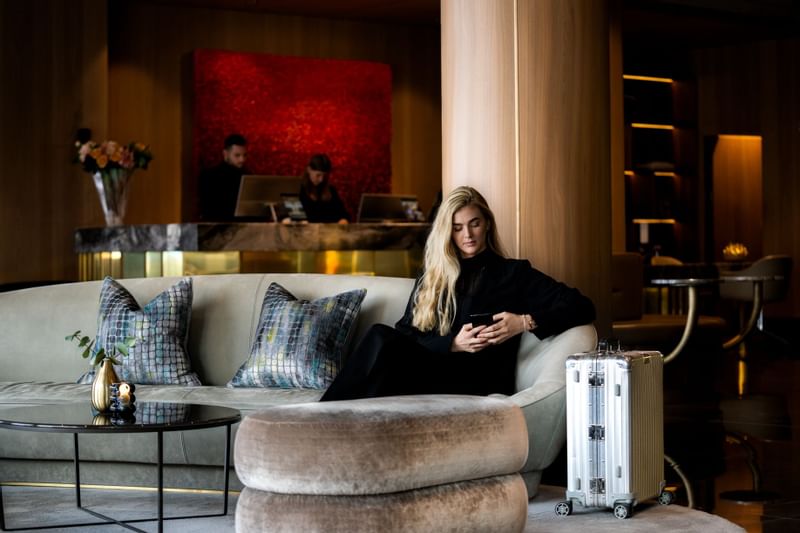 Frequently Asked Questions - Hotel Gothenburg
How much is a hotel night with us at Riverton in Gothenburg?
Room prices vary from day to day as we apply flexible pricing and of course depending on which room you are interested in. Our cheapest rooms, single rooms in the Superior category, start with a price of 995 SEK. You always get the best price when you book directly on our website.
When is it cheapest to stay at a hotel in Gothenburg?
Room prices vary from day to day as we apply flexible pricing according to demand and depending on which room you are interested in. January or February are generally months with lower prices for hotels in Gothenburg. You always get the cheapest price when you book directly on our website.
Can you cancel your hotel rooms for free at Hotel Riverton?
Yes, we at Hotel Riverton offer refundable room rates, but it depends on what rate and offer you book. Our Best Available Rate and member price can be canceled free of charge until 16.00 the day before arrival. If you choose a discounted price, they are usually not cancelable. We recommend that you read our cancellation policy for the price or package you book.
Who owns Hotel Riverton in Gothenburg?
Hotel Riverton has been entirely family owned and operated since 1991.
Can I bring my dog to Hotel Riverton in Gothenburg?
Yes, we are a dog friendly hotel. We are happy to accommodate your dog if it is fully trained, and complies with the local legislation requirements. Dogs may not exceed more than 12 kg and need to fit into standard aviation (cabin approved) travel bag. For us to be able to accommodate you and your dog, you need to request a special pet-friendly room at the time of the reservation and get a separate confirmation from the hotel. We have limited availability of our pet-friendly rooms; hence it is important to contact us in advance. You are able to book your pet-friendly room by telephone or email.