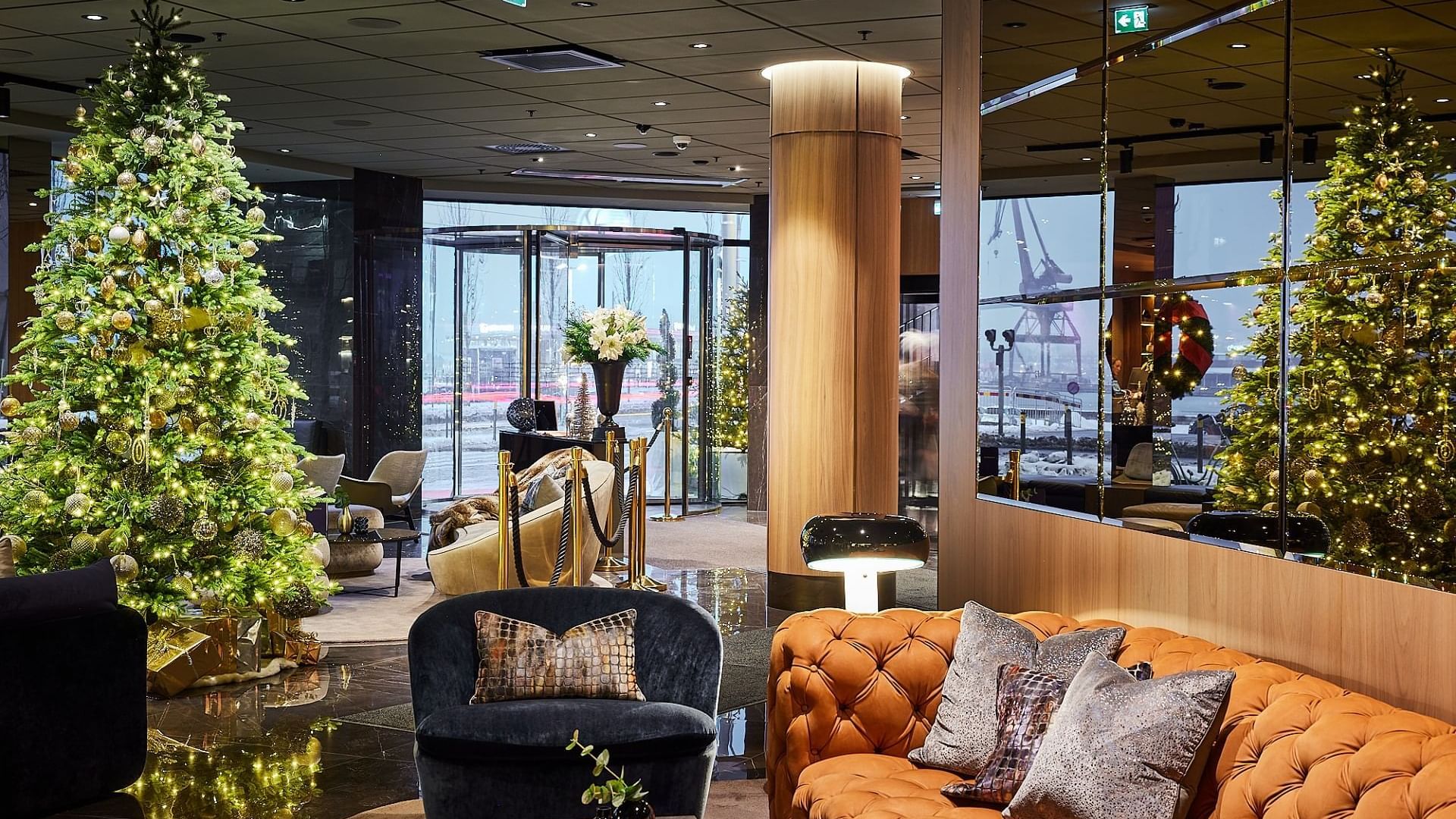 The Christmas city Gothenburg has a lot to offer but lots of cozy markets, Christmas at Liseberg, magical Christmas concerts and shows, ice skating and a lovely atmosphere. Christmas time is one of the most wonderful times of the year in our opinion, so we have compiled some of our Christmas favorites in Gothenburg, as well as what happened at the hotel.

Christmas at Hotel Riverton
Are you still looking for inspiration for what to do during the Advent weekends, Christmas or the intervening days? Christmas is the most atmospheric time of the year and we have several offers to make your holiday in Gothenburg an unforgettable time. Unwind in our SPA, have dinner with a fantastic view of Gothenburg or explore everything that the christmas enchanted city of Gothenburg has to offer. We also recommend our popular Christmas table, which is served from the end of November to the middle of December.
Christmas shopping in Gothenburg
Gothenburg is a big city with a small-town feel! This means, among other things, that you have an incredible shopping selection within walking distance, which can be perfect for those of you who are looking for Christmas presents. In cozy Haga there are plenty of small shops with unique gifts and delicacies, in the neighborhoods around Magasinsgatan and Vallgatan you will find interior design and fashion and in the middle of Gothenburg you will find all the big brands, flagship stores and malls (we recommend NK and Arkaden).
Christmas markets in Gothenburg
Spruce rice, roasted almonds and steaming hot mulled wine. Christmas markets are one of the coziest things we know, and in Gothenburg there are many to choose from.. Going to a Christmas market in Gothenburg is both fun and atmospheric, where you will find everything from home-knitted scarves to close-baked honey and Christmas delicacies.
For many, Christmas in Gothenburg is almost synonymous with Christmas at Liseberg, Sweden's largest Christmas market, which also offers young and old tickling carousels and, of course, the opportunity to leave the wish list to Father Christmas. At Christmas, the Liseberg amusement park turns into a fantastic winter fairy tale with millions of lights, glittering snow and of course lots of fun carousels.. Look around in over 80 stalls with everything from sweets to Christmas stockings, and enjoy the Christmas atmosphere.
Experience a traditional Christmas market in the beautiful Kronhusbodarna which each Advent weekend has a different theme. You will also find a cozy Christmas market in Haga. During each Advent weekend, exhibitors with food, design, crafts will exhibit along Haga Nygata. It is promised to be a wonderful Christmas atmosphere with choir singing, entertainment for young and old.
Christmas concerts in Gothenburg
If you are looking for a musical Christmas experience, there are plenty of nice concerts to visit during Christmas in Gothenburg. Everything from Lorensbergsteatern, Scandinavium, Göteborgs Konserthus, Stora Teatern to Oscar Fredriks church, Kajskjul 8 and Annedalskyrkan offer atmospheric Christmas music in various forms. On 10-13 December 2022, the Cathedral invites you to its annual Lucia concert with its talented Boys' and Girls' Choirs.
The hotel and restaurants will be open as usual.
Christmas season in Gothenburg
Ususally commences the last weekend of November up until New Years.