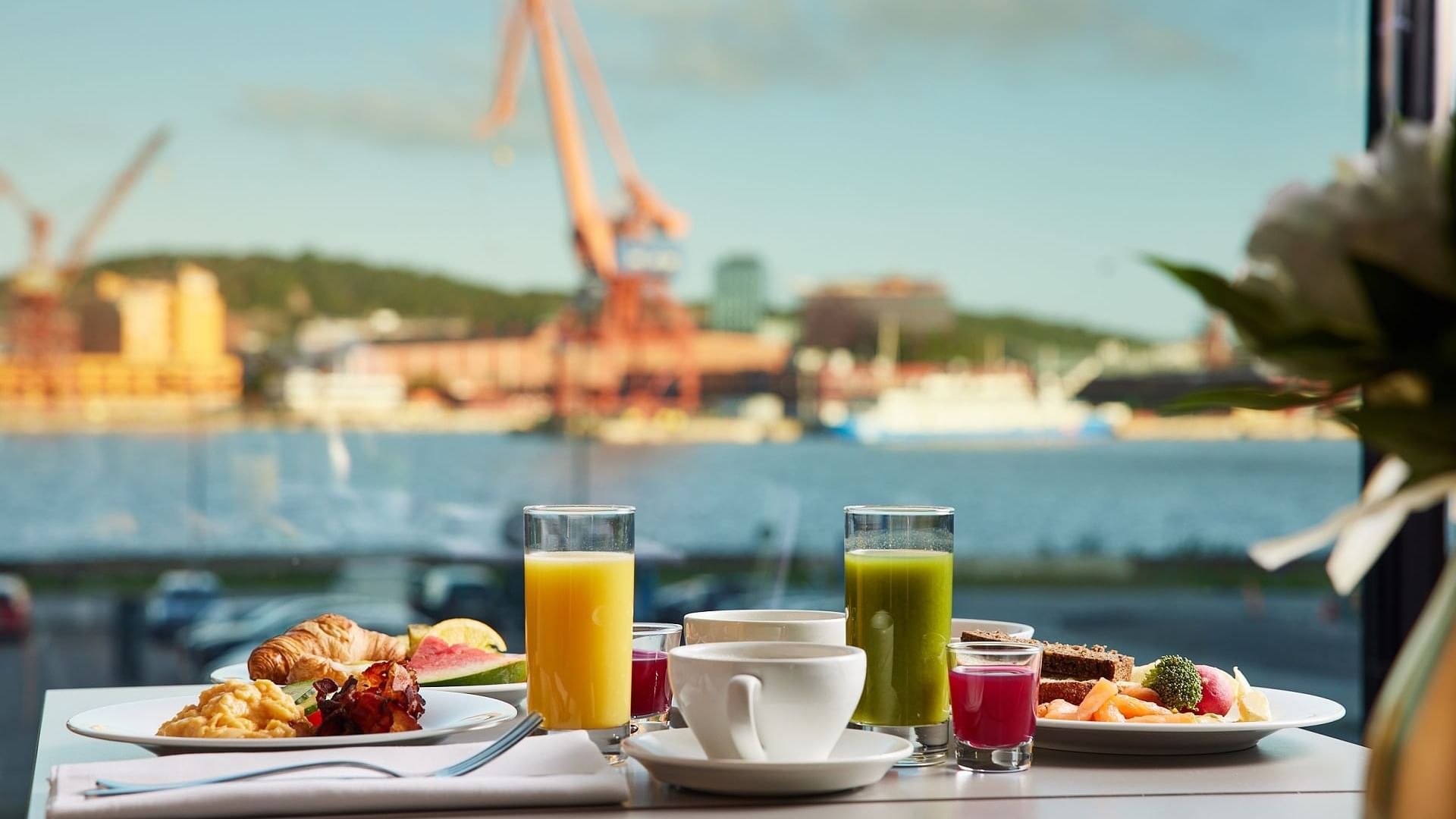 Dine to one of the best views in Gothenburg
A warm welcome to one of
Sweden's best hotel breakfasts
– Elle Decoration, Residence, Femina
What would a hotel stay be without waking up well-rested in fluffy sheets to walk down and indulge in a wonderful breakfast? For many, breakfast at Hotel Riverton is one of the greatest and most important aspects of their hotel experience in Gothenburg. We offer a carefully selected high-quality hotel breakfast in an inviting environment, as we believe that breakfast is the most important meal of the day.
Our generous hotel breakfast has something for everyone. Homemade pastries and pancakes for the one with a sweet tooth, a classic continental selection for the hungry one and the chef's ginger shots and fresh fruit and veggies for the one opting for a healthier alternative. We also offer a selection of gluten and lactose-free products, vegetarian and vegan-friendly options.
Locally, sustainably and organically produced ingredients are important for us and used to the greatest extent possible to ensure that all food served is of the highest quality. Our renowned breakfast is served in our newly renovated restaurant, Restaurant ONE located on the first floor. It is a beautiful restaurant focusing on elegant and timeless details, and at the same time, it offers a relaxing atmosphere with views over the harbour of Gothenburg.
Express Breakfast
We understand that traveling for business may include a hectic schedule. If you are in a hurry or must catch an early flight, you can pick up your express breakfast in the lobby. Just pre-order the day before up until 11 PM with our Front office team.
Available: Monday - Sunday 04.00 - 06.30
The takeaway breakfast consists of a sandwich, fruit salad, juice, coffee/tea.
Invite someone to join you
We believe that the finest moments in life are shared, even the small ones… If you would like to invite someone who is not staying in the hotel to join you for breakfast, you are most welcome. We will add a supplementary charge of SEK 345 per person invited. Kindly contact us beforehand to make the arrangements.
Monday-Friday: 06:30 - 09:30
Saturday-Sunday: 07:00-11:00

*The opening hours may vary slightly during public holidays and the summer months. Please contact us for current opening hours.