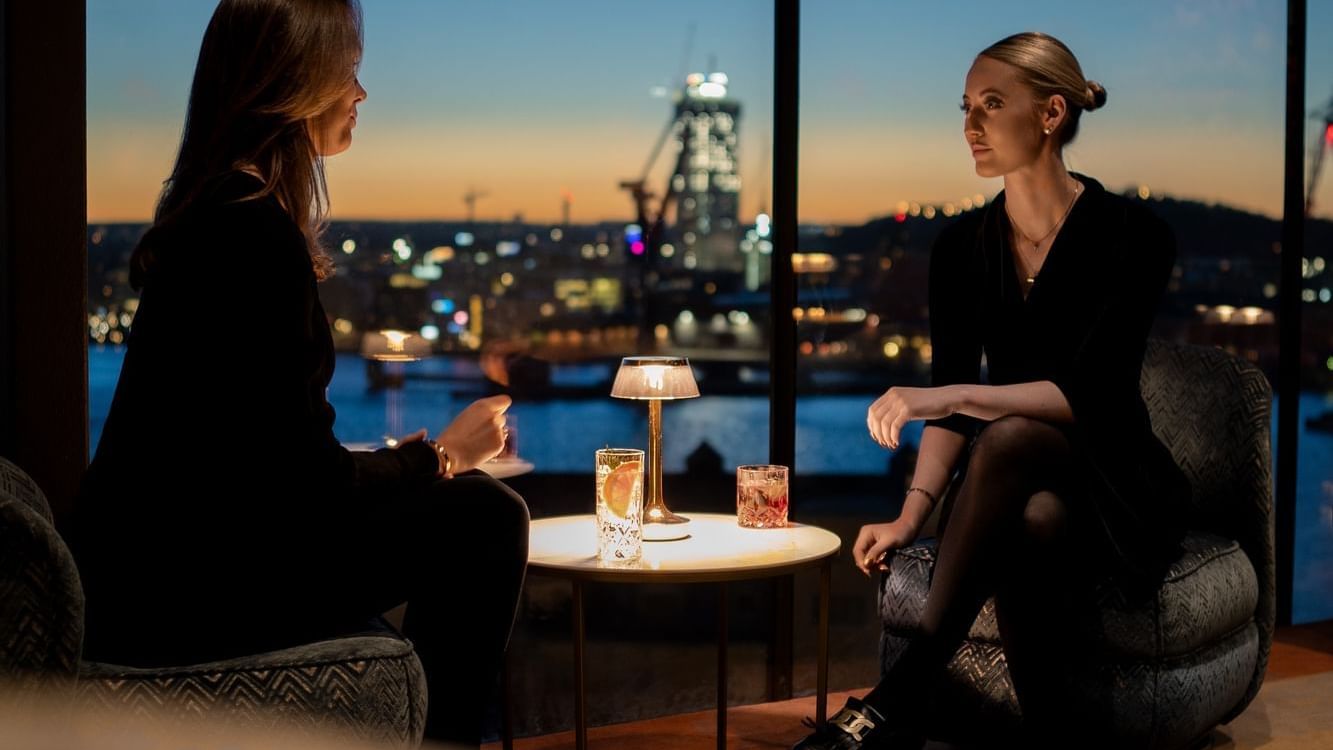 Dine to one of the best views in Gothenburg
Set on the 12th floor of Hotel Riverton you will find our signature restaurant and bar, View Skybar & Restaurant. With scenic views over Gothenburg and the harbor entrance from the floor to ceiling panoramic windows, we offer an ambiance unlike anything else in Gothenburg. The décor is chic, luxurious yet welcoming with a mix of designer furniture, high end materials and art pieces.
Enjoy one of our award-winning cocktails in the bar or experience our a la carte menu with spectacular views of the harbor. You'll enjoy a superb quality of food options and an excellent selection of wines to pair together.
Our restaurant and bar are open every day of the week, including Sundays.
DJ - Fridays & Saturdays
The music is cool and conversational level but heats up as the hour gets later on weekends. On Fridays and Saturdays between 21:00 - 01:00 you will be able to enjoy tasty drinks to some great tunes!
Welcome to round off the week with us.

View Restaurant
Our head chef Christoffer Andersson and his talented team offer high-quality and inspired dishes from an à la carte menu. The proximity to the sea is reflected in our menu, where selected ingredients from the Swedish west coast are in focus. We share a true passion for well-made food and high-quality ingredients are the foundation of every dish we make. Our kitchen draws inspiration from its love of the Swedish west coast and combines local ingredients with international influences.
We use local and organic produce to the largest extent possible, which means our menu varies according to season and availability, to ensure we always use the finest and best ingredients of what the season has to offer.
DINNER RESERVATION
Please book a table in advance to avoid disappointment, especially on weekends.

Kindly note that table reservations are only for dinner, if you only want something to drink you are warmly welcome to our Lounge in the Skybar, drop-in only. We are only serving our hotel classic menu in the Lounge in our Skybar, and not in the restaurant.
For larger groups of over 8 people, please contact us on reservations@riverton.se or give us a call on +46 (0) 31 750 10 00.
VIEW SKYBAR
View Skybar is not your average bar, it's a vibrant gathering place for stylish, like-minded people who appreciate a well-curated selection of music and drinks. Meet up for after-work drinks with friends or stop in later in the evening to socialize, sip on hand-crafted cocktails and take in the scene of this gorgeous space to a divine view.
RESERVE A DRINKS TABLE
Meet up for an after-work with friends or come by a little later in the evening to enjoy good wines and champagnes, or imaginative cocktails from our talented bartenders. On Fridays and Saturdays, it is possible to book a drinks table in View Skybar. Please note that we only have a few bookable drinks tables and that there is a minimum spend on these tables. Book your table here.
Monday-Thursday: 15:00-00:00
Friday: 15:00-01:00
Saturday: 14:00-01:00
Sunday: 15:00-23:00

*Kindly note that the kitchen opens at 17:00.